After two SB19 members successfully made their solo names in the music industry, Josh Cullen Santos is clued as the next in line. And by piecing back the puzzle of hints fans have so far, the assumption seems to be precisely the case in the upcoming.
Josh is the lead rapper, lead dancer, and sub-vocalist of SB19. Among his positive traits, fans are used to seeing him show support to someone, whether close to him or not. But the instance last June 25 was just entirely different.
On Twitter, Josh casually introduced Ocho, his cousin who just released its first single titled "Sofa." By doing so, he trusts A'TIN to know the drill since it's no news how he uses his influence to promote others' endeavors. In fact, on Facebook, Josh is vocal in supporting her sister's gaming live streams.
However, Josh did not only promote a relative's music this time. He also announced a big revelation that took everyone by big surprise. Moreover, it ignited much excitement and anticipation.
SB19 Josh is cooking his possible solo debut
In his following tweet the same day, Josh named his cousin his "personal producer." Seeing how he meant the disclosure outside his being part of SB19 only leads to one conclusion: Josh is preparing to launch his solo debut!
In addition, a tweet by rapper Matthaios on June 27 furthered the possibility. He said many friends are recently recording in his studio, including Josh, whom he tagged in the social update.
On the other hand, Ocho thanked the fans for showering his new single with positive responses after his cousin's influence.
"24 hours ago, the only people that had ever heard my music were my friends and family. You guys are amazing & I am so, so happy you enjoy the song."

Ocho, The Bullet (@ocho3x on Twitter)
He added that he is excited to share what he and Josh prepared.
Despite SB19's comeback remaining pending, each member appears to be focusing on shaping their career. Hopefully, it will be soon enough they fulfill the promise to achieve the goals they shared with fans by returning as a group.
Nevertheless, A'TIN is there waiting to play their more significant part. Of course, we can't wait to see what you have in store, Josh!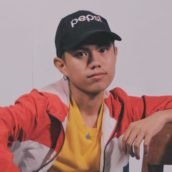 Renzneil Robles
Renzo is an introvert who prefers to do things at his own pace. Unlike most writers, he reads lazily. Watching Korean dramas at night is his constant source of comfort. Although oftentimes commended for being outspoken, he speaks better through writing than with his words.