We've certainly witnessed the fulfillment of how P-Pop came to rise in the Philippines these past few years. But for fans, the ultimate goal right after this breakthrough is to attain global domination, hopefully bringing us closer to the spotlight of social and economic gains.
Thus, on the billion-user platform YouTube, P-Pop formations are also exerting their best efforts to step up the game. Each, of course, pegging away as they promote the redefined boundary of Filipino talent by producing and sharing numerous content.
On a close radar, here are 10 of the most subscribed YouTube channel of P-Pop groups:
#10 VXON Official
Date created: December 17, 2021
Subscribers count: 38, 700 (as of writing)
Description: VXON has just concluded the first season of their beloved segment titled #TestYourVXON, which they also renewed for a second installment. On the other hand, the official audio for "Reach The Top" is their latest release.
#09 KAIA Official
Date created: October 22, 2021
Subscribers count: 54, 666 (as of writing)
Description: While they have only debuted in April, some are still viewing them as newbies. But KAIA surely is keeping up in the P-Pop scene. On their YouTube channel, fans can learn more about the group through the "Road to Debut" documentary series.
#08 ALAMAT
Date created: November 10, 2020
Subscribers count: 127, 876 (as of writing)
Description: ALAMAT, other than being the so-called fastest rising P-Pop boy group, is continuing its undertaking to promote Filipino sensibilities. Their travel journey, PASYAL ALAMAT, has them exploring local tourist spots while delving into Filipino culture and traditions.
#07 FirstOne Entertainment
Date created: November 20, 2019
Subscribers count: 200, 107 (as of writing)
Description: FirstOne Entertainment's YouTube channel used to be a content-uploading account solely for 1st.One, its first official boy group. However, with the launch of Dione as a sister formation, it has been a uniform platform for both acts.
#06 BINI Official
Date created: November 27, 2017
Subscribers count: 216, 000 (as of writing)
Description: Last June 24, BINI released the official music video for their newest romantic track, "Lagi." To date, fans are showing appreciation for the song and MV that has reached over 100k views.
#05 MNL48
Channel created: December 03, 2016
Subscribers count: 257, 987 (as of writing)
Description: MNL48 marked its 4th anniversary as a group not long ago. Moreover, they had a weeklong celebration of the milestone and even prepared special online content. This 2-hour duration video is available to be watched on their YouTube channel.
#04 BGYO Official
Date created: May 18, 2018
Subscribers count: 287, 058 (as of writing)
Description: BGYO retains its place as the golden voice behind the theme song of the hit series "He's Into Her." Hence, in their latest video release, the members reacted to "Best Time," the soundtrack for the second season of the trending show.
See Also
#03 NewGen Girls TV
Date created: June 16, 2014
Subscribers count: 413, 000 (as of writing)
Description: Likewise the group members' diverse personalities, SB New Gen has various content on their Youtube channel. They post random vlogs, TikTok clips, or mostly short covers of the hottest dance craze.
#02 4th Impact
Date created: July 30, 2012
Subscribers count: 799, 882 (as of writing)
Description: Ever since they gained new management under the care of ShowBT Philippines, 4th Impact has begun to re-establish its place as one of the most vital icons in P-Pop. This June, the quartet launched a live concert series announced to be aired every Sunday through YouTube.
#01 SB19 Official
Date created: May 21, 2018
Subscribers count: 2, 634, 529 (as of writing)
Description: Lastly, even with the combined subscribers of all top 9 in this list, SB19 remains the most subscribed P-Pop group. And also, the only recipient of YouTube's gold play button award. "School Buddies," their latest segment on the platform, aims to nurture among their viewers Filipino customs and practices.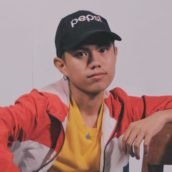 Renzneil Robles
Renzo is an introvert who prefers to do things at his own pace. Unlike most writers, he reads lazily. Watching Korean dramas at night is his constant source of comfort. Although oftentimes commended for being outspoken, he speaks better through writing than with his words.