In the month of October, Village Pipol puts the spotlight on people who make a platform to inspire positive change.
Through our features, we learn how everything we do can inspire even one person to pursue something good in society, and themselves.
Thus, the stories in this month's issue move readers to instigate great and amazing changes in their everyday lives.
Connection in the age of social media
Our cover story for October featured Kimpoy Feliciano and his rise to social media stardom.
Kimpoy shared his story of having a different dream before starting out in the YouTube vlogging industry.
However, after stumbling upon the craft of content creation, he started to believe it was something he was meant to do.
Furthermore, Kimpoy believed social media became his way to bring about positive connections and change to the online community.
For our Travel story, we look back at the history of Ilocos Sur through the many beautiful landmarks it offers.
Readers get a virtual tour of Ilocos Sur and the stories it offers through its sublime structures and astonishing views.
In relation, our Food story talks of how food brings back so many memories, and Ilocano cuisine became an example.
The story excites our readers' palettes as they scroll through the delectable food items Ilocos had to offer.
Something to prove
For our Lifestyle story, we featured Acqua Earth and their water bottles inspired by nature.
Readers can see how each bottle tells a story of nature through its colors.
In our VP/Xclusives, we told the story of the upcoming girl group CALISTA and how they plan to showcase their talents to their future audiences.
Moreover, we get to know the group and each member better before they shine in the local girl group scene.
Being a voice
For our story in Technology, SHARP recently launched their AQUOS THE SCENES 8k series.
The technology company improves quality time among families with the release of their brand new audio-visual products.
Lastly, VP/Spotlight featured the story of famous social media star Pipay and her story towards online stardom.
Furthermore, she sheds light on content creation and how everyone can be a voice for good in the digital age.
Truly in today's time, where social media becomes essential for many, we need voices for inspiration and change in the said platform.
Through online content, social media users can be moved to do positive change if the instigators themselves advocate for such.
May our readers feel the need to bring about positive social and personal change through the stories of our October issue.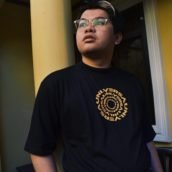 Kobe Adam Joshua Laurena
Kobe Adam Joshua Laurena is a writer who loves to tell stories from the perspectives of different people and everyday life. Apart from the pen, he loves to pick up the lipstick to transform into his frustrated drag persona: Anita Good Lovin'. He aspires to combine his love for writing and drag by creating a novel, short story, or screenplay about local drag queens in the future. He also has an obsession with sitcoms, women's pro-wrestling, and Funko Pops.