August is a slow month. It stretches out the longest across the span of a year. Half of the year has already gone. And, there are only a few months left before 2021 ends. It seems this month became the perfect time to make the most of the entire year. And, because it is a slow month, it yawns and lingers on – being considered the ghost month. The year is slow to alter to forget – due to the COVID-19 pandemic spanning across a few years.
As a celebration, we featured Sam Pinto on the VP/Cover as she welcomes enigmatic motherhood. For the VP/Spotlight, we celebrate August as the Buwan ng Wika with Editor-in-chief Angela Baltan showcasing Lala Vinzon in a beautifully crafted Filipino feature.
Meanwhile, VP/Xclusive displays DJ Loonyo's passion overruling his fear of entering the music industry.
Truthfully, August has been a slow month. But, even then, we shall not regret the current tide that has come. May we continue battling against the steady mobility of this year.
Cheers!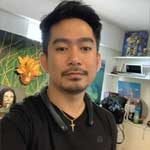 Josh Austria
Aside from being a businessman, Josh Austria has been working in PR and media industry for more more than a decade. From his years of experience as the Marketing and Advertising Head of Village Pipol Magazine, he has built strong relationships with creative people, brands, and organizations.