It's raining men in the November 2021 issue of Village Pipol as we feature men who made a mark or will make a mark in their respective mediums and fortes!
May these stories continue to inspire you to keep on doing what you are doing, in every aspect you pursue.
Pushing for the unorthodox
For our VP/Cover, we feature the cast of the upcoming December BL Series Love at the End of the World.
Markki Stroem, Kristof Garcia, Nicco Locco, and Yam Mercado all dish on shooting for your not-so-typical series under the BL genre.
For our Travel story, we follow tourist spots that are unusual and macabre from your usual sunny destinations.
Fans of dark, eerie horror stories are in for a treat when they take a virtual tour of these places.
Local trademarks
For our Food story, we feature Khalil Ramos and Gabbi Garcia's online series on different food businesses in Metro Manila.
Readers will surely crave goto, pares, and other food items when they see what the celebrity couple has been featuring in their vlogs.
In Lifestyle, readers can look back at the different cultural traditions experienced in every Filipino household.
Get ready to go through memory lane as we feature the diverse trademarks every Filipino experiences at the home.
Making a name
Moreover, Mark Anthony Rosales is the feature in the VP/Xclusives section.
Get to know the businessman and his journey towards starting Marqed Salon.
On the other hand, we feature rising indie-pop band Nameless Kids in the Music section.
Furthermore, we look into the group's musical background and their musical process.
Crowning glory
Lastly, for our VP/Spotlight, the candidates of Misters of Filipinas 2021 take center stage.
Pageant hotties Nadim Elzein, Junichi Yabushita, Derick Allen Lauchengo, Rommel Ayag, and Jearu Ed Magbuhat look back at their pageant journeys and their plans moving forward.
Reading these stories, may our readers pursue all their plans for the future and won't let anything get in their way!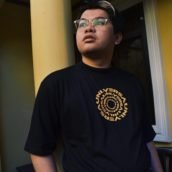 Kobe Adam Joshua Laurena
Kobe Adam Joshua Laurena is a writer who loves to tell stories from the perspectives of different people and everyday life. Apart from the pen, he loves to pick up the lipstick to transform into his frustrated drag persona: Anita Good Lovin'. He aspires to combine his love for writing and drag by creating a novel, short story, or screenplay about local drag queens in the future. He also has an obsession with sitcoms, women's pro-wrestling, and Funko Pops.