VP/Cover: Romnick Sarmenta's Renaissance
Words by Grace Leung
"Life is a lot like an ECG monitor, you get as many downs as you get ups, and the only ones that matter are the ones you care to remember."
Romnick Sarmenta — wearing a purple shirt, a blue blazer, blue shorts and yellow socks — is currently goofing around in front of the camera at the pictorial for his new film, Becky & Badette. He is grinning so wide that his eyes have been reduced to mere slits. He seems like he's having the time of his life, which is rather surprising, considering that he has been doing this for close to five decades now.
In 1977, five-year old Romeo Nicolas Sarmenta Tejedor began his career playing the memorable role of Peping in the TV drama Gulong ng Palad, then later playing the child sidekick Ding to Rio Locsin's version of the superhero Darna, and starring in a film alongside no less than Nora Aunor and Vilma Santos in Pinagbuklod ng Pag-Ibig.
Teenage Heartthrob
He grew up to become a teenage heartthrob — a host of the hugely popular That's Entertainment TV show, one-half of a very successful loveteam with Sheryl Cruz, and lead actor in many blockbuster movies. The following decade, he started stretching his wings as an actor, top-billing action movies to historical dramas like Tirad Pass: The Story of Gen. Gregorio Del Pilar and even playing queer characters in the film, Miguel/Michelle, and a GMA Telesine made-for-TV movie for which he was awarded Best Actor at the Asian Television Awards in Singapore.
By the 2000s, Romnick matured as an actor as he did in real life when he started a family. "I have this thing in my head; to do all that I can, for as much as I am able to, for as long as I can do it. So I guess it applies even to my passion for this craft. I want to tell good stories, to give life to characters, to save up for my family, to make my Barbara (Ruaro) and all of our children proud of the father they have."
Romnick was more inclined to take on roles that interest him more than those that would maintain or enhance his popularity. "I try to go for projects that meet my convictions, express my values, and ones that have good morals to share and those that inspire critical thinking."
Drawn to Teaching
He never really slowed down as an actor, but he eventually got drawn to teaching. "A friend asked me to join the faculty at Trinity. I didn't think I could do it… but I believe I had always had that desire to mentor others who ask, about my craft, about the industry and its challenges. Also, I just didn't think that I could be a teacher. I have always admired teachers for their selfless dedication to the you ger people in their charge. I see it as parenthood in a way. And I have always felt blessed in being a father. So, if I get the chance to play that role for more willing, seeking children, then I am blessed."
During the pandemic, Romnick got a call from acclaimed film director Jun Robles Lana. Jun told him about a movie he was making, About Us But Not About Us, and asked if he'd like to audition for one of the lead roles. Romnick read the script, was impressed, auditioned, and got the part.
Best Actor Award
Romnick bagged the Best Actor award at the 1st Summer Metro Manila Film Festival for his performance in the film. It's a feat that surprised no one except Romnick himself. He says, "The awards are a wonderful acknowledgement of a job well done. But I don't think it is the end goal. The goal is to let them (the audience) understand the character and learn from him. "
In a review for ABS-CBN's news portal, Romnick's performance was described as "a rich portrayal of remarkable restraint." Many believe that this film marks Romnick's second coming, a renaissance of sorts for an actor who has been overlooked for decades. There is renewed excitement for him, and his potential.
He has since starred in a number of TV projects, most recently in the series collaboration of GMA and ABS-CBN, Unbreak My Heart, and in the popular series of Daniel Padilla and Kathryn Bernardo on Netflix, 2 Good 2 Be True.
Becky & Badette Film
Romnick has also just finished filming Becky & Badette, a new project with Jun Robles Lana. Considering he just won Best Actor for a dramatic thriller, it may come as a surprise that this new film is a comedy. Here, Romnick plays the enigmatic but charming high school crush that will come between best friends played by Eugene Domingo and Pokwang.
See Also
"I think comedies, good comedies are much needed at this time. And I wanted the experience of working with both Pokwang and Eugene in a film. The last time I ever had a chance to share space with Uge was in UP for plays, and that feels like a lifetime ago. Plus, it is under people I enjoy working with, sina Direk Jun and the folks at The IdeaFirst Company. So, I felt comfortable doing it. Even if I do very little comedy, I guess I also want to see if people would believe my character in it."
Indeed, almost five decades since he first appeared in front of the camera, Romnick continues to surprise many, including himself. And perhaps this is the secret to his success, not just in show business but in life in general. "Bumps and all, this life is always promising something… It is up to us how to dust off and do better, as much as it is up to us not to think of peaks, but how to get to the next one without dipping so low."
And so, what is next for Romnick Sarmenta?
"Honestly? Whatever I find in front of me today."
Publisher | Richie de Quina & Gwynn Crisostomo
Editor-in-Chief | John Luke Chica
Senior Editor | Achilles Bamba
PR & Advertising Manager | Josh Austria
Digital Manager | Allen Esteban
Words by Grace Leung

Creative Director and Stylist | Jaylo Conanan
Associate Stylist | Jaydee Jasa
Photographer | Jose Mendiola
Film by | Joshua Maraña
Grooming | Chao Villano Lilio
Wardrobe Assistant | Janine Vargas and Arlen Pandaan
Studio | Prowess Supremacy Production Inc
Special Thanks to The IdeaFirst Company, Direk Jun Robles Lana and Direk Perci Intalan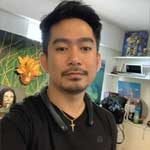 Josh Austria
Aside from being a businessman, Josh Austria has been working in PR and media industry for more more than a decade. From his years of experience as the Marketing and Advertising Head of Village Pipol Magazine, he has built strong relationships with creative people, brands, and organizations.