For September, Village Pipol features people who show their passion and authenticity through their body of work.
Through our features, we learned how these two go together in persevering for your life goals.
Thus, our stories inspired readers to pursue their life goals, while reminding them to love what they see in the mirror.
Showing passion
For this issue, our VP/Cover featured Kapuso star Faye Lorenzo who spoke of her journey in show business.
In her story, Faye moves readers on pursuing their childhood goals which, for her, was being in the spotlight.
For Travel, we highlighted destinations from beautiful Mindanao, from Siargao to Maguindanao.
In that story, viewers delighted themselves in a virtual experience of sightseeing in beautiful places.
This, in turn, they can put in their travel itineraries.
For Food, we got to know the story behind BigRoy's Boodle Fight by Roy Aguilo, Jr.
Reading the story, we saw Roy's passion for pursuing a business quite different from his career.
Moreover, our tastebuds got virtually pleased at the sight of their Boodle Bilao, a mixture of seafood, rice, and meat all caked into one woven tray.
The beauty of authenticity
In our Lifestyle section, we began a campaign on bullying called #VPFaceForward.
This featured inspirational stories of people who were at the receiving end of taunts and teases regarding their appearance and personality.
In addition, readers saw natural, awe-inspiring photos of these people embodying their authentic selves.
They empowered themselves by showing their true self, along with the hurtful words expressed by their bullies.
Speaking of authenticity, our VP/Exclusive featured TikTok star Queenee Mercado.
Queenee shared the story of her TikTok stardom, which stemmed from wanting to show her Batangueña roots.
This, in turn, inspired readers to show their authentic selves in today's digital age.
In Technology, Village Pipol featured the newest lifestyle technology company called FLEEK.
FLEEK began its technological journey with the unveiling of its 1st Intelligent Bluetooth Audio Sunglasses.
Lastly, we featured GMA artist Kim de Leon in our VP/Spotlight.
Here, we highlighted Kim's young showbiz career, related his burning childhood passion to where he is now.
Truly, having passion and showing authenticity goes a long way in life. Through such, we can grasp our goals and learn a lot of lessons along the way.
Lastly, may our readers pursue the goals they want to pursue and love themselves for who they really are.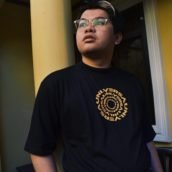 Kobe Adam Joshua Laurena
Kobe Adam Joshua Laurena is a writer who loves to tell stories from the perspectives of different people and everyday life. Apart from the pen, he loves to pick up the lipstick to transform into his frustrated drag persona: Anita Good Lovin'. He aspires to combine his love for writing and drag by creating a novel, short story, or screenplay about local drag queens in the future. He also has an obsession with sitcoms, women's pro-wrestling, and Funko Pops.