On YouTube, Josh, Justin, Ken, Pablo, and Stell of SB19 showed us the extensions of their personalities. By creating content on the platform, they either demonstrated potential in vlogging or focused on harnessing their musical brilliance. And it pays off because SB19 is the first P-Pop group to have all of its members individually receive the silver play button award!
Indeed, these five men are not only talented idols who can sing, dance, and rap. To say nothing of their being all-around performers, they have, in fact, a lot more to offer than that. And we have those moments captured through our favorite online video-sharing site!
Ever wonder what secret SB19 members' YouTube channels have that made them surpass a hundred thousand subscribers count? Let us find out:
SB19 Justin
Amassing the highest number of subscribers, Justin is the first in his group to officially start content-creating on YouTube. Overall, he has the most videos and was the most frequent when uploading content. To date, he has brought to his 233k subscribers 41 videos in total.
Justin's vlogs are not only aesthetically pleasing; it also reveals so much of his everyday life. Through here, subscribers got to appreciate more of the artistic side of SB19's main visual.
SB19 Josh
The lead rapper Josh came second to Justin in committing to creating content on YouTube. Although his channel existed as early as April 2014, it was only March last year when he began new uploads. His first vlog is where he filmed himself from the lens of a Filipino idol.
If you are a fan who looks forward to knowing him more intimately, you should watch Josh in his vlogs! Especially since his channel is where we can see him celebrate personal achievements.
SB19 Ken
When it comes to Ken, it's safe to say that he is not the type to open up all the time. And on YouTube, it's precisely the same case of unpredicting the things he shares or not with his followers. This is why instead of vlogs, his music releases are what you should be anticipating!
As FELIP, Ken recently made his comeback through a second single titled Bulan. Looking back, it was a follow-up to his debut through Palayo in September 2021.
SB19 Pablo
Speaking of a debut, Pablo was the next after Ken to pursue a solo music venture. In January this year, the leader of SB19 welcomed an era by releasing his first official track called La Luna. So far, its music video and song trailer are the only contents uploaded on his channel.
As a prodigy, it is more likely that Pablo's YouTube will contain mostly musical content. Perhaps another viral rendition? Or any of the masterpieces we know are there waiting to surprise us.
SB19 Stell
Among the members of SB19, he is known to be outgoing or social. And while he is probably the best fit for vlogging, Stell, aka Vester, was the last to create his YouTube channel. In doing so, it was naturally an awaited celebration for his fans.
Stell has impeccable humor, which comes off well in each of his videos. What is more, his channel has several segments showcasing a variety of fun content.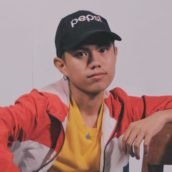 Renzneil Robles
Renzo is an introvert who prefers to do things at his own pace. Unlike most writers, he reads lazily. Watching Korean dramas at night is his constant source of comfort. Although oftentimes commended for being outspoken, he speaks better through writing than with his words.