Long we knew that Justin de Dios, a member of P-Pop formation SB19, is more than his title as his group's visual. He is good at singing, able to rap, and has a knack for wowing fans with his precise dance moves.
In addition, the 23-year-old idol is artistic in many ways! In fact, Justin directed most of their projects, music videos for What? and Hanggang Sa Huli included. Thus, to describe him as merely capable is something that could not be more underrated.
However, there seems to be no stopping when it comes to this man's growth and development as an artist. Given the talents we mentioned, would you believe us if we tell you that there is more?
Justin de Dios sparks solo debut possibility through a self-made song
On May 25, A'TIN indulged much satisfaction after a social update by the SB19 member Justin. On TikTok, he posted a 1-minute and 10-second video of him singing a song that happens to be an original composition.
Justin has just reached a milestone on the platform as he surpasses 1M followers. And to celebrate that, he shared his self-written piece titled Parallel Universe. To date, the clip is nearing its 200k views with over 50k likes and almost 7k comments.
Immediately after this TikTok post, admirers were quick to shower appreciation. Furthermore, with two SB19 members done venturing solo releases, Justin's song paved the revival of the hopeful wishes of fans― for him to debut as a soloist!
Aside from this, some also expressed excitement on how SB19's pending comeback could include solo tracks. Something not entirely far-fetched considering how SB19 is always ready for surprises. Although to clarify, everything is no more than manifestation.
Go on your pace with no pressure, Justin! Congratulations on hitting 1M TikTok followers!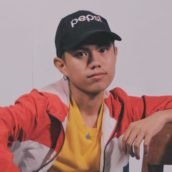 Renzneil Robles
Renzo is an introvert who prefers to do things at his own pace. Unlike most writers, he reads lazily. Watching Korean dramas at night is his constant source of comfort. Although oftentimes commended for being outspoken, he speaks better through writing than with his words.