December 2021 — 'Tis the season of laughter, exploration, and inspiration
'Tis the season to be jolly, indeed! The month of December certainly filled our hearts with the most joyful and fondest of memories. Here, in the Village Pipol Magazine, we celebrate with everyone the most wonderful time of the year.
We continue to make our mark in stories that not only entertain but also inspire us in being our best selves. A lot of hurdles have gone, and yet, we're still standing. Here's to the end of 2021!
Now, as we raise our glasses, let's revisit some of the highlights of December that truly put the star at the top of our trees.
Authenticity captures it all
For our VP Cover, we've witnessed the genuine chemistry between rising love team Kyline and Mavy as they answer some of our burning questions.
The pair didn't only woo our hearts but also gave us some beautiful insights into the idea of having something real.
Enchanting places and scrumptious meals
Well, what is joy, really, if we don't explore places to satisfy our wanderlust and also discover some tasty treats to tend to our needy tastebuds.
This month, for Travel, we've come back to nature and dived into the wonderful province of Rizal. The pristine beauty of the place truly magnified what we've been missing as we got glued to the city.
On the other hand, Food really made our mouths water as we looked into our very own delicacies of kakanin. Readers were enthralled with some twists to our most favorite treats.
Feeling good and Looking good
Our Health, Lifestyle, and Fashion articles have really given everything to us this month. The magazine took us to a curious procedure which is teeth whitening.
It also dabbled in topics that we don't really usually tackle, such as the art of gift-giving and the pressure of reciprocating it. Also, of course, the interesting case of what to wear when meeting the family of our boyfriend for the first time.
Laughter brings out the holiday cheer
The VP/Spotlight really put a smile on our faces, talking with one of the funniest comedians on TikTok, Christian Antolin.
We've had an in-depth conversation about dreams and aspirations, as well as his inspiration in producing the content that we love.
Finding the perfect gift and the perfect tune
Sometimes, the best gifts are the things we can really use, especially around the house. We've recommended some of the best appliances that you can wrap to make a friend happy—a gift guide!
All of us have been engulfed in music other than our own that we forget to listen to some of our own bops. This December, we have discovered some of the best Visayan Pop songs that perfectly sum up the talent of our kababayans.
Being a true visionary
Last but not the least, VP/Xclusives truly brought out the best in us as we got to know the inspiring story of Janno Novenario, the owner of the self-made company, Janno Styles and Co.
That's a wrap to a very fun and meaningful December! We hope you continue growing with us and our stories. Embrace the coming year with a joyful heart and a peaceful soul! Hope you had a wonderful 2021!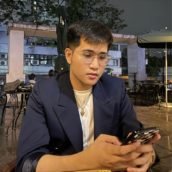 Raphael Garcia
Raphael is a person born between the generations of Millenial and Gen Z. He was produced by Cavite State University (Main Campus) with a bachelor's degree in Political Science. The lad has a fresh take on things, but can still stay true to his roots. He writes anything in Pop Culture as long as it suits his taste (if it doesn't, it's for work). He loves to wander around the cosmos and comes back with a story to publish.