Alodia Gosienfiao marries entrepreneur-partner Christopher Quimbo on Valentine's Day
Photo from Verniece Enciso's Instagram page (@verniecenciso)
The day of love couldn't be sweeter for everybody's favorite cosplayer Alodia Gosiengfiao as she marries her entrepreneur-partner Christopher Quimbo on Valentine's Day. 
On Instagram, Tuesday, Alodia's bridesmaid Verniece Enciso shared photos of the wedding ceremony. 
Meanwhile, early this week, the celebrity cosplayer released some snaps from their very fantastical pre-wedding pictorial. It had the forest as its setting, leading up to the personal milestone.
A week before the wedding, Alodia also held a bachelorette party with her women friends aboard a yacht.
The kilig-inducing romance between Alodia and Christopher first went public in April 2022. With the infinity sign as her caption, she posted a photo with the businessman on her social media accounts.
The speculative netizens immediately talked about how Alodia has found a new partner, after her high-profile breakup with vlogger Wil Dasovich. It seems that they were right as the celebrity gamer and Christopher got engaged in July 2022.
In September last year, the couple shared that they first met each other when they had a quadruple date with their other friends.
Describing his first impression of Alodia, Christopher said, "She's so beautiful. But of course, you're still looking for more than just that. I saw that she was so much deeper."
However, prior to that, Christopher had already searched for her beau online. The cosplayer admitted the same. Since then, Alodia said he knew they would click.
The Village Pipol magazine congratulates the beautiful couple for the inspirational and wonderful love between them that just shines through. You just made our Valentine's Day extra special.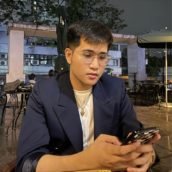 Raphael Garcia
Raphael is a person born between the generations of Millenial and Gen Z. He was produced by Cavite State University (Main Campus) with a bachelor's degree in Political Science. The lad has a fresh take on things, but can still stay true to his roots. He writes anything in Pop Culture as long as it suits his taste (if it doesn't, it's for work). He loves to wander around the cosmos and comes back with a story to publish.