5 Filipino songs to awaken your political consciousness
With the 2022 national elections fast approaching, politics became the usual topic of discourse among Filipinos. In particular, social media emerged as an accessible platform for the public to discuss the state's affairs. It is just proof that one still values their right to vote as a responsibility.
As you have probably heard most say, everything is political. And when it comes to music, some artists precisely defined this thought in their work of art.
Thus, pause for a moment on your usual playlist and favorite jams. It's time to hear the reverberating substance of songs meant to awaken your consciousness in politics:
Banal na Aso, Santong Kabayo (1994)
"Banal na aso, santong kabayo,

Natatawa ako hihihihi"
Now a classic karaoke entry, this song has maintained its popularity since created in the '90s. Although it's not straightforwardly 'political,' it questions one's supposed morality. And even after decades have passed, the message it conveys to society remains otherwise relevant.
Behind the song's iconic line is an attack explicit to religious people whose actions defeat the virtue of their beliefs. Our views in politics directly reflect our moral standards. So in elections' context, it's a blunt upbraid to the hypocrisy of those who cannot practice what they preach.
Dapat Tama (2013)
"Alam natin ang tama, 'bat 'di natin ginagawa?

Paulit-ulit na lang na ito ang bagong simula"
Released as a campaign for the 2013 voting period, this track by Gloc-9 and Denise Barbacena lives up to its purpose. Being the trademark of its songwriter, it contains stinging rap verses infused between compositions. Hence, successfully invoking a powerful objective.
Its lyric that is not enigmatic by choice efficiently reaches the public. By and large, the song sends critical awareness to voters during elections. It tells us that everybody is equally responsible for promulgating the rotten system.
Liwanag sa Dilim (2005)
"Isigaw mo sa hangin, tumindig at magsilbing

Liwanag, liwanag sa dilim"
We've known Rivermaya as the legend masterminds of 214, Kisapmata, or Elisi. These are romantic hits that Millenials and Gen Z will surely remember as generations who grew up singing them. But aside from these serenades, the band is also behind the impelling song, 'Liwanag sa Dilim.'
Unconventionally, it is motivated by an inspiring message but with a harmony that refuges to the rock genre. Thus, this unusual fusion brings about a catchy song that effectively channels passion towards the listeners. The piece utterly propelled the spirit of unison that starts within oneself.
Tatsulok (1997)
"Habang may tatsulok at sila ang nasa tuktok,

'Di matatapos itong gulo"
Although popularized by the singer Bamboo, this song is an original of Buklod. In essence, it is considered an excellent masterpiece that speaks of our harsh reality. In fact, it can depict and relate to several political issues in the country, extra-judicial killings being an example.
The title translates to the term triangle or the symbolic pyramid of society. In the unfair system favoring the ruling class, privilege is in exchange for the plight of the unfortunate. While interpretations vary, the track pertains to how justice shall serve the struggling mass.
Upuan by Gloc-9 (2009)
"Kayo po na naka-upo, subukan niyo namang tumayo.

At baka matanaw, at baka matanaw ninyo ang tunay na kalagayan ko"
Our last entry is another Gloc-9 creation, described as the most untouchable rapper in Philippine hip-hop. It is titled 'Upuan,' a metaphor for 'seat of power' that is the central idea of the song's intent. It's an innuendo for corrupt politicians hungry for power.
Considering the upcoming elections, it is a suitable paradigm. The singer dedicates the piece to all deceitful public servants blind to the suffering of its nation. With unrelenting words formed to a rhythmic outcry, it's an anthem that will ever timelessly present the country's political narrative.
Vote with your life at stake.
Entrusting our future through a vote that we decide is a fleeting chance very few in one's entire lifespan. However, with others undermining its weight, it appears as if it's not a matter of our welfare being at stake. Perhaps,
"If politics doesn't interest you, you have no interest in changing a world that suits you so well."

Susan Wokoma as Edith in Enola Homes (2020)
We've had enough of tolerance by allowing dishonesty and deception to contaminate our hope of a better life. It's long overdue, but whatever is wrong must be corrected. Deny empowering liars and thieves who will continue to provide us nothing but promises. After all, we deserve so much better.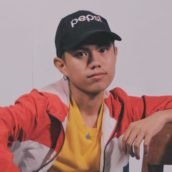 Renzneil Robles
Renzo is an introvert who prefers to do things at his own pace. Unlike most writers, he reads lazily. Watching Korean dramas at night is his constant source of comfort. Although oftentimes commended for being outspoken, he speaks better through writing than with his words.