SM Supermalls serenades the environment with Sustainable Fashion Runways
SM Supermalls mounted the first-ever Sustainable Fashion Runways in celebration of Earth Month 2023 last Saturday, April 29 at Samsung Hall in SM Aura, Bonifacio Global City in Taguig City.
Sustainable Fashion Runways is a runway show event poised to showcase eco-friendly collections of various fashion designers inside and outside the Philippines. The chosen fashion creators advocate authentic sustainability and eco-friendliness in their designs, products, production, and business practices in their fashion labels.
For this premiere season of Sustainable Fashion Runways, the featured fashion labels are Lost Lorelei by Lorelei Bookluck, and Sassy Creations.
One of the featured sustainable fashion designers is Lorelei Bookluck, indeed the creative force behind global eco-friendly resort wear Lost Lorelei. The Australian-Filipina-style visionary has been known for her edgy yet laidback designs created for the lifestyle of a globetrotter.
She has also studied eco-friendly business practices in fashion for five years to ensure integrity in maintaining sustainability from fabric sourcing to the production process.
Lorelei Bookluck has been a cover girl of Stylish Magazine, as she was, of course, featured in the January 2023 digital issue.
Sustainable Fashion Runways is presented by SM Aura, and co-presented by SM Supermalls & Stylish Magazine and Stylish TV.
Stylish Magazine is an online publication that features your daily dose of self-love, style & inspiration. It has since expanded into a television format dubbed Stylish TV that you may stream online on iWantTFC here, and maybe watched in more than 50 countries on The Filipino Channel (TFC) and in the Philippines on MYX Global.
In addition, according to a ComScore report, stylish TV ranked in the 37th spot among the Top 50 most-watched multicultural shows in the USA. Stylish TV is returning for a new season on iWantTFC here, on The Filipino Channel (TFC), and on MYX Global in July 2023, wherein you may watch the behind-the-scenes of the Sustainable Fashion Runways episode.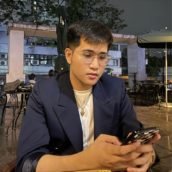 Raphael Garcia
Raphael is a person born between the generations of Millenial and Gen Z. He was produced by Cavite State University (Main Campus) with a bachelor's degree in Political Science. The lad has a fresh take on things, but can still stay true to his roots. He writes anything in Pop Culture as long as it suits his taste (if it doesn't, it's for work). He loves to wander around the cosmos and comes back with a story to publish.