ICYMI: David Licauco aka Fidel of 'Maria Clara at Ibarra' is a real-life negociante!
Photo from David Licauco (IG)
If you are fond of GMA's newest historical drama, "Maria Clara at Ibarra," you might have laid eyes on one of its actors, David Licauco. He plays a friend to Dennis Trillo's Crisostomo as Fidel Reyes Y Maglipol in the television series. With mixed arrogance and charisma in his role, the 28-year-old hunk has been charming the viewers since the show began.
Moreover, aside from being the closest companion to Ibarra, what we know about Fidel is that he is an ilustrado. He owns a business enterprise, revealed when he talked to Barbie Forteza's Klay during episode nine. Surprisingly, Fidel is not the only one!
Something in common shares the actor and the character he portrays is their being negociantes. In real life, David Licauco is a young hardworking, and successful entrepreneur— a disposition that resembles Fidel. That said, let's take a look at his business profile.
It runs in his blood
A true mestizo de sangley, David was born of Filipino-Chinese descent. Before joining showbiz, he was a model known for clinching first place at the Mr. Chinatown 2014 pageant. Reports also say that his parents are entrepreneurs running their respective businesses. Knowing this, we can only imagine him being as well-oriented in the mentioned practice.
He studied business
Although they say that business people are either born or made, David is both. By that, we mean to say how he learned to master his craft like the educated nobleman Fidel. Besides having an innate background in entrepreneurship, David exerted effort to pursue the field. And he did so by finishing Business Management at the De La Salle College of Saint Benilde.
A young CEO?
After completing his studies, David did a lot of venturing. For instance, he partly owned Alpha Fitness Club, a gym in Taft, Manila. In addition, he had a shawarma store franchise and a milk tea outlet in Valenzuela. Meanwhile, David currently manages other food businesses from his hard work, as detailed in a 2021 PhilStar interview.
Running an online grocery
David takes it seriously when it comes to being healthy and fit. Hence, he extends this dedication through an online grocery he founded. Named As Nature Intended, he described this booming shop as a one-stop place to buy anything healthy. Products available in this e-grocery include organic food, supplements, beverages, and even skincare items!
Delivering comfort food
Sobra Comfort Food is initially an online food delivery shop established during the pandemic. The concept is to serve food that offers relief and happiness, something everyone deserves. But from a food courier service, this venture has expanded into a physical store. In April this year, David opened the Sobra Cafe and Bar in Molito Lifestyle Center, Alabang.
Serving satisfaction
Lastly, David satisfies our craving for Korean food through another online food shop he launched in November 2021. As his latest investment, Kuya Korea brings affordable but guaranteed tasty Korean meals like chicken, noodles, burgers, and even rice bowls. Just this September, David welcomed its brick-and-mortar outlet in UP Town Center.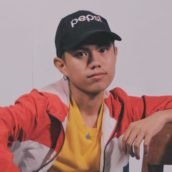 Renzneil Robles
Renzo is an introvert who prefers to do things at his own pace. Unlike most writers, he reads lazily. Watching Korean dramas at night is his constant source of comfort. Although oftentimes commended for being outspoken, he speaks better through writing than with his words.