Kai Karen Santos: From Public Market to Global Market
Pleased to Meat you All!
In Pampanga province, just south of Tarlac, we can find the stately imposing provincial capitol building that Don Macario Arnedo y Sioco has built. Descended from prominent names, Kai Karen Santos' great grandfather whose daughter Elena Arnedo gave birth to her father, Edwin Arnedo Santos. 
The son of businesspeople and leaders who held vast tracks of land and interests in gold and silver mining, Don Macario became the first civilian governor of Pampanga under the American insular government. As governor, on the other hand, he enacted forms and built infrastructure in his province. This, then, included schools that still bear his name.
In Tarlac province, the Valentin clan became a prominent family of meat suppliers. Kai's grandmother Conchita "Conching" Pingol acquired the business of her husband's family. Through hard work and business acumen, Lola Conching soon prospered as she invested in real estate. This included a mansion for her family of six children. Unfortunately, tough times came but that didn't dent her resolve even if she almost raised her six children on her own. She tripled her efforts and in no time, she rebuilt her enterprises.
Business for Mama Luz was not just about making money.
She had a daughter named Luz Santos y Pingol who loved cooking. She also possessed the astute business expertise that she had instilled in her. Known affectionately as Kutil or simply Mama Luz to her kids, she became known for her kind heart. Business for Mama Luz was not just about making money. It also revolves around taking care of family, friends, and employees. This philosophy from Lola Conching, as well as compassion for those in need. And, of course, those who they work with gently and firmly imbued it into Kai Karen Santos.
As a strong woman, Mama Luz refused to feel miserable when she was diagnosed with uterine cancer in October of 2019. On the contrary, she also remained cheerful and confident even during her last days. Her last words to her eldest daughter Kai Karen Santos remained uplifting.
"Don't be remorseful. Take care of your brother and sisters, and everybody. Keep on fighting and move forward with life!"
Mama Luz passed away in December of 2019.
Kai Karen Santos: From Public Market to Global Market
Generation Now
A long-time meat vendor inside the Tarlac City Public Market recalled:
"Oh yes… Kai. I still remember her when she was still a young girl. Kutil always brought her to the market with her. She's smart, and she sometimes even studied with her mom inside their stall. I won't be surprised if she's successful now."
As a precocious child, Kai Karen Santos excelled well at school. With her mother and grandmother teaching her to become sociable, Kai made friends with people easily. These people, on the other hand, became successful in their own careers as professionals and entrepreneurs. Thus, putting into practice the proverbial saying of increasing one's net worth via their network. Aside from commerce, her grandmother also taught her to sing and dance during special family occasions. This, then, helped her to develop self-confidence early which comes as she carries herself easily in any given situation.
Moving with the groove.
In 1998, Kai Karen Santos moved to Manila with her father. Two years later at the dawn of the new millennium, she joined the band Groove as a lead singer. This comes under the management of Ricky Trinidad. Her fame, of course, grew and she later sang with other bands. Meanwhile, it was with the band 3rd Movement where she really took off. She also visited and sang in various cities and spots all over the Philippines.
In 2003, she gave birth to her eldest son Zak after which she joined other bands as a sessions singer until 2006 when she gave birth to her daughter, Eve. Regretfully, on the other hand, she stopped being active in the entertainment scene. The following year, she joined the Business Processing Outsourcing industry. So, she could gain a steady income to support her growing family. In 2014, she returned to Tarlac.
Kai Karen Santos: Miss Pure Energy
Hardly has she settled back in Tarlac when a cousin offered her a work-from-home job with TruEnergy, a well-known energy brokerage firm in Dallas, Texas. The idea of working from the comfort of one's home and city tickled her imagination. So, she signed up for it. Eventually, Kai Karen Santos had hard work and professionalism, and people-friendly skills that employers definitely noticed. She also quickly received the role of Client Relations Manager.
In that capacity, Kai Karen Santos virtually represented the company at court hearings with the Public Utility Commission of Texas. Aside from that, she also has other responsibilities that include streamlining TruEnergy's policies and processes. She also serves as the country manager of the Philippines where she handled the recruitment and training of Filipino virtual assistants. Meanwhile, she handles the recruitment and training of Filipino virtual assistants all while managing six American call centers.
Things, of course, went bad when she and her teammates least expected it. The company, then, changed management. The new one, unfortunately, laid off its Filipino workers, and in a flash, Kai and her team were out of work. Worse came as the World Health Organization officially announced the COVID-19 pandemic days later.
As a single mom and as a team leader, Kai Karen Santos naturally felt scared and unsure of the future. Who wouldn't be?
Not only does she have to think about her family, but she also had the welfare of her teammates and their families in mind. Quarantined from the virus that slowly wreaked havoc to the world, she also found herself looking towards Mama Luz's framed photo on top of the mini shrine where they kept the marble urn containing her ashes. Kai Karen Santos smiled and nodded her head defiantly. Then, she took a sip of water from a nearby drinking glass before setting it down.
When she looked at it, Kai Karen Santos assured herself: "It's not half empty, it's half full. I know I can do it, Ma. Because you taught me well."
From there, she began to galvanize herself and her team. Real estate became one of the industries that boomed at the time. So, she went into cold calling while helping her teammates find work. She didn't mind switching roles from being a country representative and manager to an entry-level cold caller. She simply saw work and she felt more than happy to fill in the need and an opportunity to broaden her horizons.
And, those horizons would not only get broader, but they would also become brighter.
Right on Q
Kai Karen Santos has always remained attentive in maintaining and growing her networks of contacts. Of course, this paid off when two former workmates Ralph and Rubelle introduced her to a person. Quentin "Q" Flores, a rising name in the Texas real estate sector turned her life upside down.
Kai Karen Santos vividly and fondly remembered:
"I helped him streamline his business processes, build his buyer's list, not to mention do some good old-fashioned cold calling. I didn't notice that everything was falling into place. Whenever anyone needed virtual assistant (VA) referrals, I would tap into my contacts and fill in their manpower needs. So, even before Virtual Squad learned how to walk or was even born, it was already up and running."
Her former teammates likewise pitched in and urged her to put up her own company, knowing full well her leadership capabilities and her experience of mentoring virtual assistants as early as 2014. So, when Q finally proposed to formalize their business partnership, six months after she and her team went laid off from work. Kai, of course, instantly said yes.
Coming out into the world when that same world went locked in, Virtual Squad has since provided a home to furloughed singers, artists, OFWs, single moms, and the like all of whom work permanently at home. And, of course, permanent means permanent – even if other BPO companies drift back onsite. This work setup has helped safeguard the health and wellbeing of its employees and save valuable hours and transportation expenses from an otherwise expensive and stressful work commute.
Kai Karen Santos is ablaze and unstoppable.
Kai quips, "It's my job as the CEO to ensure growth. Growth for the company, VAs, clients, everyone here at Virtual Squad."
When it started out in 2020, Virtual Squad only had six virtual assistants. A year and a half later, this figure ballooned with a 5,000% increase. It also expanded from real estate into e-commerce. In June 2021, it only had two stores, but in less than eight months, it became able to experience a 5,000% growth, with forays into Amazon and Walmart. Its presence on Shopify, of course, grew by 500% in only three months.
Now, how is she as a boss?
To anyone at Virtual Squad, the first thing that they will say will refer to Kai, "She isn't a boss." Because the more apt term is mother. As the eldest sibling, Kai takes the cudgels of taking care of her family and the meat business, particularly when her parents got sick. This comes even if she's a single mom of two.
"To put it simply I do not only feel responsible for my family but also for the families of my employees."
So, the next question comes: Who gets to join Virtual Squad?
"It's the Q word. Q as in qualifications. They have to be qualified for the position of course, and I am not afraid to turn down job applications of people I know if they're not a good fit. And fit means anyone who's fit."
Once hired, they trained virtual assistants where they hone and mentor them consistently. They have to know that they need to make themselves important and significant to the company and their clients. So, those that need to be impressed are always impressed.
As their mother, she sees it fit that her virtual assistants would treat each other like family, too. Virtual Squad works in such a way that employees don't only treat each other as colleagues, but they also see each other as family. And, as members of their family, they remain there to help and build each other up. Unlike in other firms, career competitions would often see workers at each other's throats.
Ella, a trainer, and an onboarding manager in Virtual Squad touched our hearts as she mentioned how she views the well-loved CEO.
"Kai is always very down to earth and a real person. She has this genuine care for her employees and she values loyalty so much because she is also a loyal boss to you. She doesn't give up on everyone and will always choose to hear your side. Kai always sees the good in people."
Now, what about hiring people she's close with?
Some businesspeople shun bringing friends and family into a business. Maybe this comes because they have tough handling professionalism and intimacy. Kai smiles knowingly with this and quips:
"Not me. While other people would say that business should not be mixed with personal relationships, I have employed relatives and friends other than job applicants because I feel that I should be helping the people around me first."
Her generosity also remains evident at the dinner table where people eat and drink the same food that she does. Whether or not she eats Wagyu steak or her favorite premium salmon sashimi, her staff, virtual assistants, bodyguards, and whoever happens to come with her will be treated as VIPs. No exceptions.
Last December, this was put on a massive scale when she flew in at her own expense her VAs and staff from all over the country to Virtual Squad's year end party. Unlike, other BPOs events, fine food, drinks, and beer flowed almost endlessly, while they were entertained by celebrities.
When they had to fly back, Kai Karen Santos wouldn't let her workers go to the airport without sending them off with boxes of groceries. The volume of which even comes close to over an hour of processing and packing at check-out. And, of course, this only comes as a second installment. Prior to the party, employees who experienced Typhoon Odette's wrath received financial and other forms of assistance. She also gave out monetary help to fortunate non-Virtual Squad individuals from the Visayas at a random on Facebook.
So, when Kai and everyone at Virtual Squad says that they have your back, that means she will also take care of their stomachs, wallets, and even pantries. In full.
Gen Z & E
From her corporate family, we now introduce her biological family. For Kai Karen Santos, Mama Luz has always remained her rock. She always looked to her for support. When she passed away, Kai felt as if her mom was orchestrating blessings from heaven. With her mother, grandmothers, and unwavering family dotingly raising her, Kai likewise devotes her time to her wonderful kids Zak and Eve. Small wonder that both remain consistently on their schools' honors list. Eve even bagged a highly coveted scholarship at the prestigious Philippine Science High School.
Zak and Eve also remain artistic and leaders.
Zak even directed his mother's first video advertisement with nothing more than her cellphone and his innate talent while Eve became a student leader at school. Erudite and hardworking, have they considered, perhaps, in following their mother's footsteps? To this Zak said:
"Mom has taught me that pouring all of your passion and creativity into something and making it special can be very rewarding in one way or another. She inspires me to do the same in my life. And doing the same as she, becoming an entrepreneur and making a business that is personal to me—something I am passionate about is something I am definitely considering in my own future!"
Eve, meanwhile, remains no less confident:
"She serves as a reminder for me that my dreams have no limits and that I can be whomever I want to be."
Content but still wanting to do more for her stakeholders, Kai has this to say:
"I see myself as a beacon of hope to others, that amidst one of the darkest times in the world I was able to build a company that provides jobs to many Filipinos. I want to keep that light alive for people who depend on me. In addition, I am all for breaking corporate stereotypes. Our employees are happy because they consider Virtual Squad as their second home. They see me as their mother figure who leads with her heart."
No success story is a one-trick pony, and in the case of Kai, the beauty of her incredible success is that her products are not mere commodities. They are borne out of passionate leadership, disruptive and innovative creativity, and pure heart.
This is what takes one from the public market to a global one. This is what Kai Karen Santos has done.
Publisher | Richie de Quina & Gwynn Crisostomo
Editor-in-Chief | John Luke Chica
Senior Editor | Rapha Garcia
PR & Advertising Manager | Josh Austria
Digital Manager | Allen Esteban
Words by Paulo Apolinar
Photographer | Marco Ongchi
Photography Assistant | Alexis Dave Co
Make Up | Shahani Cura
Hair Stylist | Daliwin Mallari
Stylist | RJ Ryan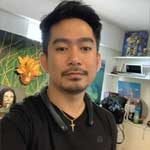 Josh Austria
Aside from being a businessman, Josh Austria has been working in PR and media industry for more more than a decade. From his years of experience as the Marketing and Advertising Head of Village Pipol Magazine, he has built strong relationships with creative people, brands, and organizations.