New Year's Eve has got to be one of the most cathartic holidays. It signifies both farewell to the old and hello to the new.
It is a time of reflection and celebration of both challenges faced and successes achieved. Also, the anticipation of a far better year ahead. For Filipinos, it is best welcomed with families and loved ones.
It is, however, a fact that not everyone can be with their loved ones during this time. Some have to be at work so that people may be reunited with their families back home. AirAsia Allstars, for instance, partake in such holidays just like how they report to work on a regular day.
They stay committed to bringing the world's best service to our guests especially during the holidays. But as AirAsia cultivates a familial culture, Allstars find ways to innovate and make every moment special with valued guests.
This is while fulfilling their duties on the ground or even 30,000 feet above sea level. Below are some Allstars that regale fond holiday memories up high in the sky.
Up for the holiday cheer
Cabin Crew Thalia is among those that needed to be on board on both Christmas and New Year's Eve. AirAsia wants to ensure everyone reporting in the aircraft does not miss a fun holiday family celebration. It has been an All-Star tradition for quite some time to pack food that they can share with each other.
Thalia shares,
"While enjoying our simple feast, we greet each other and share our plans for the coming year."
Unbeknown to Thalia, she and the entire crew were in for a good holiday treat. This is courtesy of a very special passenger in 2018.
Thalia recollects of the time they had an actual Santa Claus among their passengers.
"At first, we thought it was just a coincidence that he happened to dress that way. But during our short conversation with him, we found out that he really does impersonate Santa Claus. We took photos together, sang and danced to our passengers and the rest was joy and laughter."
This special flight has made Thalia realize that holiday cheer can be spread by everyone. Certainly, with or without a Santa hat.
AirAsia and the Filipino Family

Jorina Contapay comes from a family that is tightly knit. Counting down to New Year has always been a family affair as it coincides with her father's birthday.
But on New Year's Eve of 2019, Jorina needed to report to work to assist AirAsia guests. It is a year-end duty she did not expect will be completely special.

Jorina assisted an elderly woman trying to check in. She remembered,
"I can never forget this one passenger who was struggling with her travel requirements and was so eager to go home to her family. She was crying that time while pleading at the counter."
Jorina was reminded of something about her work. It is that through it, she is able to spread the same holiday cheer that she gets from her family. This brings her the fulfillment and the drive to man every counter with dedication. And of course the AirAsia hallmark of guest-obsessed service.
"I helped her with her requirements and waited until she boarded the flight. Before she left, she thanked me with teary eyes, greeting me a blessed new year, and full of joy knowing that she will be able to see her family again."
Family Time Aboard AirAsia

Commonly called "Daddy Jhong", Captain Raymund Murillo is known for being family-oriented, compassionate, and generous to his colleagues. Often during his flights, Captain Raymund treats the cabin crew with food. This is as a reward for their hard work and dedication.
And on holidays, he also joins the cabin crew's onboard activities and entertainment. Here, he buys gifts for the passengers.

During his year-end flight to Korea way back in 2018 pre-pandemic, he came across a family with the brightest smiles as they boarded the aircraft.
Captain greeted the family and the kids, as he always does in his flights. He shared,
"I'm always happy to see kids during my flights. They remind me of my youngest son who is a person with Down Syndrome."
He added,
"The family approached the cabin crew and asked permission to enter the flight deck to have a photo with me. Without a word, I invited them. I was smiling when I saw how amazed the kids were. That's the one of most memorable moments I experienced in my flying career."
This 2022, Thalia, Jorina, and Captain Raymund join the entire AirAsia family. This is in hoping for better skies with more destinations open and more passengers on board.
They reiterated their commitment to participating actively in the reopening of more regional flights. Also, of course, in helping AirAsia Philippines achieve optimum operations.
AirAsia is optimistic about the better days ahead for the aviation sector and tourism industry. It commits to flying more guests safely this 2022, supporting the rebound of industries. And attending to more guests' needs – going beyond what's expected of an airline company.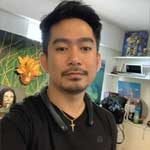 Josh Austria
Aside from being a businessman, Josh Austria has been working in PR and media industry for more more than a decade. From his years of experience as the Marketing and Advertising Head of Village Pipol Magazine, he has built strong relationships with creative people, brands, and organizations.