Indeed, it was a grand leap of triumph for the Philippines and Filipinos as artist FELIP penetrated the international scene! At the prestigious Recording Academy's Global Spin, the SB19 bandmate and soloist performed his newest single, "Bulan."
Global Spin is the latest digital performance series by Grammy that spotlights artists worldwide. Each episode features performances from chosen notable individuals or groups intending to celebrate their artistry and honor their home countries.
Not long ago, Francisco Martin, a Filipino-American singer-songwriter, graced an episode of the Global Spin. He performed an acoustic rendition of his music piece titled "Kissing on the Balcony." Thus, he was the first in this context to wave the banner of Pinoy pride.
However, in addition to this fulfillment, 25-year-old P-Pop idol (SB19 Ken) and soloist FELIP have changed the narrative. He is the first full-blooded Filipino to promote our local talent on the world stage through Grammy's Global Spin!
For his episode, FELIP rendered a performance of Bulan, his recent lore-recounting track. Inspiring the song is the Bicolano primordial moon deity with the same name. Through this composition, he hopes to empower and shatter the concept of crab mentality.
Following this achievement, FELIP made headlines among several local and international news outlets. This breakthrough gave yet another recognition in the Original Pinoy Music (OPM) scene. Meanwhile, fans and casuals also praised him for another advancement in his career.
Congratulations, and thank you for making us proud, FELIP!
You can watch his Grammy Global Spin performance below: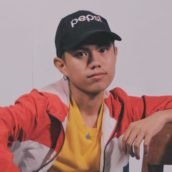 Renzneil Robles
Renzo is an introvert who prefers to do things at his own pace. Unlike most writers, he reads lazily. Watching Korean dramas at night is his constant source of comfort. Although oftentimes commended for being outspoken, he speaks better through writing than with his words.