Only once in a blue moon, or perhaps never, would we know someone like FELIP and his unique music artistry. Folks, this is not a myth!
Felip Jhon Suson, simply FELIP, is a Filipino singer-songwriter who debuted last year with a single, Palayo. As an artist, he had always pledged and shown a great desire to execute the best of his craft. And from the beginning of his journey to his second single, he indeed has fulfilled that promise.
Last May 28, FELIP dropped the follow-up to his debut track and his first solo song this 2022, titled Bulan.
FELIP launches folklore-inspired solo comeback
Following his great pursuit as a soloist, FELIP has thrivingly made a name for himself apart from being an idol— and a mainstay of the most sought-after boy group in the country at that. So, in unleashing his potential, nothing can disrupt him now.
The same attitude is precisely what the 25-year-old tries to tell us in his newest music. Bulan, FELIP's most recent track, is an all-Filipino self-written rock piece (with a single line in Visayan). From the title, it animates the moon deity of the famous myth recounted in local lore.
In an article by GMA News, FELIP detailed his latest work as entirely different from Palayo, his first R&B piece. Although in comparison, both songs champion self-empowerment, each in their style. Case in point, the myth was used as a metaphor to summon the powerful being within oneself, to recognize our inner 'Bulan' and keep negativity away from consuming our light.
Supposedly, the Bulan release was slated for May 15, timely for the total lunar eclipse and blood moon sighting. However, it came to a postponement to give way to the backwash of the 2022 elections. Despite this little delay, the comeback was a howling success!
Bulan: The moonrise
The music video for Bulan shows the pure hard work and effort of FELIP and his team. It was a careful attempt not only to revisit this aspect but keep it alive in the memory of everyone and for generations to come. Chapters PH, who had frequently collaborated with various P-Pop groups, was behind the excellent production.
In its premiere, Bulan recorded a whopping almost 18,000 live YouTube viewers. Meanwhile, the MV is fast approaching half a million views, only less than 24 hours after release. It also came first in ranking as the most discussed topic in the Philippines and worldwide Twitter trends.
Before this comeback, many preparations came, including FELIP's changing of his social media handle (Twitter and Instagram) to embrace himself. Apart from his being a member of a P-Pop supergroup, he managed all of that commitment. And the end result was worth it!
Bulan is more than a song; instead, it is an era. And like the moon that rose to the east, let us welcome FELIP in this new phase— his aspirations lighting the sky of night.
Watch and listen to Bulan here.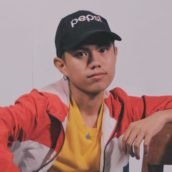 Renzneil Robles
Renzo is an introvert who prefers to do things at his own pace. Unlike most writers, he reads lazily. Watching Korean dramas at night is his constant source of comfort. Although oftentimes commended for being outspoken, he speaks better through writing than with his words.