Ken as SLAM DUNK'S Hanamichi Sakuragi?
Proving true the manifestations of the fans as an anime character coming to life is Ken Suson's most recent Instagram update.
On May 2, Ken shared a series of images of himself across his social media accounts including Instagram. Taking advantage of the red hair he first sported earlier this year, he gave life to another fictional persona.
This time, all it took was little effort for him to channel his inner Hanamichi Sakuragi.
Browsing the post that has now garnered over 50,000 engagements, the SB19 main dancer is looking chic as usual, in three stunning photographs.
There, he is spotted wearing a red basketball jersey with a number 10 print, and a SHOHOKU branding trademark. He also hung a pair of shoes over his shoulders, completing the peg of his getup.
Obviously, inspiring Ken's latest gram update is the iconic 90s Japanese anime series, SLAM DUNK. Particularly, he is disguised as Hanamichi Sakuragi, the power forward player and the main protagonist of the classic high school sports show.
No longer a piece of news among fans, Ken is a big fan of anime and Japanese music and aesthetics. In fact, he dressed up as a pirate character of One Piece during their soldout Araneta concert last month.
In addition, Ken not long ago hinted at his comeback as a soloist. Penning a short teaser captioned "Itaga mo ito! Ang sunod na bersikulo," he revealed releasing a second single this May 15.
Meanwhile, both overwhelmed and excited, are the supporters of him and his group, SB19. We look forward to your surprises, Hanamichi — we mean, Ken!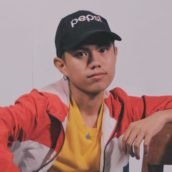 Renzneil Robles
Renzo is an introvert who prefers to do things at his own pace. Unlike most writers, he reads lazily. Watching Korean dramas at night is his constant source of comfort. Although oftentimes commended for being outspoken, he speaks better through writing than with his words.