Back on October 30, Misters of Filipinas 2021 concluded with Nadim Elzein bagging the coveted title of Man of the World Philippines 2021.
The representative of the Filipino community in the United Arab Emirates bested 28 other participants in the pageant's eighth edition.
Now, Nadim, alongside 1st to 4th Prince titleholders Junichi Yabushita, Derick Allen Lauchengo, Rommel Ayag, and Jearu Ed Magbuhat, look back at their journey towards the prestigious pageant.
Get to know more about these sizzling hotties as Village Pipol journeys through their different lives.
The healthy, outgoing Man of the World
Away from the pageant spotlight, 2021 Man of the World Philippines Nadim Elzein focuses on being a health buff.
As an athlete, he centers exercise and different health methods in his daily routine.
"I implement health methods [into] everything I do, I [go] to the gym, I am also into all kinds of sports. I consider myself as an extreme sports guy such as UFC, Racing etc."
After arriving in the Philippines, he first ventured into modeling, which would be one of his growing passions.
"If I am being more honest, I never thought this is what I wanted but it became an interesting and enjoyable hobby."
Moreover, Nadim considers himself as an outgoing person, always looking forward to various social interactions.
"I am an outgoing person, I like meeting new people and listening to their stories. For everyone we meet in life, [they have] a story to tell as we learn and grow from others' experiences. It's amazing how spending time with one person can be and how it can be beneficial to us in the future."
Getting out of his comfort zone
However, being in pageantry never crossed as a dream for Nadim, having his sights set on the military.
"Being in pageantry never crossed my mind, to be honest. It's amazing how life turns to be. My dream was to [be] in the army as I always wanted to help my country grow and make it a better and safer place for the people as I feel it's in my personality to protect those who are in need."
However, venturing into new things has been innate for Nadim, which was his push to venture into pageantry.
"[I like] going out of my comfort zone as it [helps] me grow better and become the best version of myself. It was a choice of going out and trying new things, as it will give me the chance to meet new amazing people and learn more and have more experiences by listening. I feel [like] when I have an advocacy, it will influence and motivate others and guide them with the love and knowledge they might need."
A brotherhood forever
Then, he entered the Misters of Filipinas 2021 pageant, representing the Filipino community of the UAE.
For Nadim, the entire experience turned out to be inspirational as it gave him the chance to learn more about the Filipino culture.
"I had the chance to meet people all around the Philippines and got the chance to build a brotherhood that would last for a lifetime. […] This is not a one-time thing, this is a brotherhood and I'll always wish and pray for the best to all of them. I thank the organization and everyone who participated in this experience that I'll hold within my heart."
His efforts towards pageantry would soon reap its fruit, as he bagged the pageant's most prestigious title.
Nadim, initially, expressed shock that he bagged the title of Man of the World Philippines 2021.
However, he expressed gratitude regarding his victory, especially when he saw his fellow candidates cheering him on.
"I am super glad and thankful for having [this] title and I'll do my best to show that I am worthy of it and [that I] earned it. What made me happier was that I was able to see the candidates happy for me and everyone was cheering for me […]. It warmed my heart and made me grateful for everything."
Making the country proud
When asked what advice he would give to people who plan to pursue pageantry, Nadim believes one should have fun with it.
"Enjoy every second of it, [do] not forget [to have] fun during it, be themselves, and be proud of who they are and be confident. Take the risk and meet people like I did and create an enjoyable unforgettable experience with memories."
And what is next for our Man of the World Philippines 2021? Making us proud.
"My next step is making those who chose me to hold this title proud, as I am given the chance to compete internationally, representing my country."
A different dream
For half-Japanese, half-Filipino Junichi Yabushita from Cebu City, pageantry has never been a dream of his.
At first, he pursued modeling, but taking care of animals has always been his main dream growing up.
"I'm a registered nutritionist-dietitian and currently a Veterinary Medicine Student. My original dream is to become a veterinarian."
Moreover, his hobbies included swimming, traveling, and having close encounters with animals.
"I love swimming, traveling, extreme escapades, watching movies, [visiting the] zoo and safari, or any enclosure with animals, and [I also] love eating a lot."
Breaking the mold
Now, Junichi pursued pageantry, being moved by society's typical standards of who should compete in male pageants.
"I've seen what standards beauty pageants [have] established and the society around me never saw any potential of me conquering one. I've never seen anyone of my type of beauty compete in a beauty pageant when I was young, someone that I can say who represents a person like me and someone that I could look up to."
With his advocacy of "breaking societal stereotypes," he wants to break the mold society puts on beauty.
"I wanna set a new standard of beauty in this platform, where who we are on the inside and our purpose should be the standard, not what we look like."
Making memories
And now, he aimed to do that as he joined the Misters of Filipinas 2021 pageant.
For Junichi, joining the pageant is an experience he will never forget.
"I've created so many memories and friendships throughout the competition, even if it is held during at times like this (the pandemic). Aside from winning, it was the experience, friendship, and the platform to create change that were the greatest takeaways of mine during Misters."
Moreover, bagging the title of the pageant's 1st Prince has been a fulfilling moment for the model and veterinary student.
"After so many continuous victories during this pageant season that the Cebuanas and Cebuanos have achieved from other national pageants, it is very humbling that I have also given pride to our dear city, Cebu City."
Also, when asked if he has advice for aspiring pageant joiners, Junichi believes in having purpose as a guide.
"[L]et their purpose guide them through their journey. They should have a mindset of becoming a spokesperson and a role model that could impact the lives of others and not just win a crown. Because at the end of the day, with this platform, it's how many lives you have changed and touched and not crowns that would matter in the end."
Lastly, for what is next for him, Junichi kept it short but sweet, saying,
"To prepare and to conquer the international stage and represent our country, The PHILIPPINES!"
A family-oriented athlete-model
For 2nd Prince Derick Lauchengco from Laguna, he describes himself as a simple and ordinary man.
Yet, he believes his faith and dreams are extraordinary.
Moreover, he tells of himself,
"My hobbies and interests are my studies, sports and fitness, and family. I am a very family-oriented person. We always find the time every day to do activities together."
However, becoming a basketball player has been his main dream, not pageantry, ever since he was little.
"Ang dream ko po is to play basketball in UAAP and, eventually, sa PBA. Back then, I got trained to ramp modeling and basketball. I was in Grade 5 when my teacher asked me to join the school pageant. This was my first pageant."
Pursue your dreams
A short but sweet answer, Derick tells Village Pipol why he joined Misters of Filipinas 2021.
"There is no specific factor. I seize the big opportunity. The whole experience is extraordinary."
When asked what advice he can give to aspiring pageant participants, he said,
"Follow your dreams and goals with all your heart and mind. Don't let FEAR take hold of your life. Don't compare yourself to anybody else."
Lastly, when asked what is next for him after the pageant, Derick believes it is high time for self-improvement.
"I will be forever grateful to Misters of Filipinas 2021 and I envision the best and amazing years ahead. I will continue to work hard in order to keep on transforming and improving myself, [and] give all my best and energy to every blessings and opportunities that may come my way."
A fitness buff and a geek
3rd Prince Rommel Ayag has a load of interests, ranging from fitness, travel, manga, movies, and traveling.
Before entering Misters of Filipinas 2021, he had a different dream, which was architecture and acting.
"My dream before was to become an architect. I love designing, drawing, and planning and I love arts, too. Unfortunately, we can't afford it at that time. I've always wanted to become a celebrity, as well as a model or an actor, but I knew it was not for me until my professor asked me to join Misters of Filipinas."
Seeing the pageant as a huge opportunity, Rommel grabbed it, as he believes opportunities only pass by once.
"I saw this platform as a chance to inspire and inform. One part of me wants to represent the country in such way, and I was thinking if this is for me."
A brotherhood rather than a competition
For the whole pageantry experience, he describes it as "one of my great experiences in my existence."
Furthermore, Rommel did not feel Misters of Filipinas 2021 was a competition at all because of the brotherhood formed.
"Actually, the coronation is not the highlight for me but the whole experience in Negros Oriental. I met my new brothers and we support each other, even after this pageant. Like what we always say 'Once a misters, always a misters.'"
After bagging the title of 3rd Prince during the event, he saw the responsibility it holds but feels happy nonetheless.
"I was so happy because I will have a chance to represent the Philippines overseas, and it was actually overwhelming at the same time because there's a lot of responsibility. Although, I open-handedly accept [the title]."
Self-love first
When asked what advice he would give to people who want to pursue pageantry, Rommel tells them to prioritize self-love.
"Love yourself first and believe in yourself because no one will do it for you. When you know how to help yourself, people will see how you respect yourself, and they will follow and support you, so always start with yourself. If there's doubt, always remember why you started."
And what's next for Rommel? Continuing to practice his own advocacy.
"I would love to give all my efforts and energies to represent our country on the international stage. And, still, I am practicing my advocacy to spread information [on] how important fitness is."
A jack-of-all-trades
When asked who 4th Prince Jearu Magbuhat is away from the pageantry scene, you'll be surprised at how much work he juggles.
"Professionally, I am a licensed mechanical engineer and I work as a property manager. I was a former flight attendant as well. On the side, I juggle my full-time job with being a ramp model, an Instagram content creator, and a travel, lifestyle, and events host."
However, now holding a prestigious title in Misters of Filipinas, you would never believe the reason why pageantry was never a dream of his.
"I never really imagined being part of the pageant industry as I had very low esteem. I am not born with a silver spoon and thus, I thought things like these are only for those that have the money and means to become one."
Growing up as a "fat, dark-skinned boy" as he describes himself as a young boy, he never thought he can bring the beauty a male pageant usually expected.
"I thought to myself that I am the definition of 'handsome' that male pageantry expects. Coming from a low-income family, I just want to be a successful professional and become a good provider. But life has greater plans for me."
Before having the belief in himself to pursue Misters of Filipinas, Jearu had the support from the people around him.
"I am forever thankful to Metro Juan who first believed in me and opened doors for me for modeling. I am also forever thankful to my Manager Jess Soriano and Kagandahang Flores Camp especially Tito Rodgil, Kuya Enan, Mommy Jerome and Kuya Migs who pushed me to become the king I am meant to be. Without them, I will not be here."
Celebrating diversity
Jearu did not start his journey in Misters of Filipinas well, as he was infected with the deadly COVID-19 virus.
He thought all preparations went downhill until the pageant was moved to a later date, giving him ample time to prepare.
"It was really unfortunate during my preparation for Misters of Filipinas 2021 that I was infected by COVID-19. All my preparations went downhill. My body weakened and I had to be isolated for almost 2 months. I thought I would not be able to compete but then the pageant got moved to October which gave me ample time to prepare a little."
For him, the pageant was an experience he would never forget as it celebrated many aspects of people.
"The pageant is really a fun experience of meeting different people, showcasing designers' talents, and celebrating the diversity of men. Misters of Filipinas is the highlight of my 2021 and the highlight of my life in pageantry."
After being crowned as Misters of Filipinas 2021's 4th Prince, Jearu feels blessed and honored.
"The quality of men I competed with in this edition of Misters is not a joke. I always tell interviews that with the quality of candidates that MOF2021 has, losing will be an honor and winning will be a blessing."
A celebrated evolution
For people who want to pursue pageantry, Jearu believes everyone should join as long as you have the drive to be a king or a queen as pageantry has evolved.
"It is really amazing how pageantry evolved through time. The definition of beauty is not anymore about who is the tallest, the fairest, the most intelligent or the skinniest. Pageantry now celebrates inclusivity and diversity of beauty. As long as you find in your heart that you want to be a king or a queen, do it. Just be physically, mentally and most especially emotionally prepared because you will be subjected to number of people with multiple opinions."
Lastly, when asked what is next for him, Jearu continuously awaits to win another title to be able to represent the Philippines.
"I am waiting if I will be blessed to have a title and compete internationally for the Philippines. But, as of the moment, I am juggling my engineering profession, being a model and content creator, and taking my chances on bigger hosting stints."
Congratulations, kings! You continue to make the country proud!
Publisher | Richie de Quina & Gwynn Crisostomo
Editor-in-Chief | John Luke Chica
Junior Editor | Kobe Adam Joshua Laurena
PR & Advertising Manager | Josh Austria
Digital Manager | Allen Esteban
Words by Kobe Adam Joshua Laurena
Produced by | Josh Austria
Creative Director | Dave Arden
Photographer | Jai Murcillo
Grooming | Keiv Torres, Mark de luna Alvero, and Miguel Chiu
Hair Stylist | Bhads Castor
Assisted by | Jufel Gomez
Stylist | Jowie Namayan
Suit | Jose Karaganilla
Shoes | Jojo Bragais
Bags | MJ Coloma of Coloma Apparel
Special Thanks to Tea Ni Juan, Jacko's Burger, Carlo Morris Galang and Jayroh Laguardia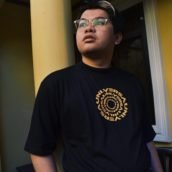 Kobe Adam Joshua Laurena
Kobe Adam Joshua Laurena is a writer who loves to tell stories from the perspectives of different people and everyday life. Apart from the pen, he loves to pick up the lipstick to transform into his frustrated drag persona: Anita Good Lovin'. He aspires to combine his love for writing and drag by creating a novel, short story, or screenplay about local drag queens in the future. He also has an obsession with sitcoms, women's pro-wrestling, and Funko Pops.