Love at the End of the World cast talks distinctive takes on filming unorthodox BL series
With the rise of Pinoy Boys Love (BL) series in mainstream media, Love at the End of the World joins the fray, yet it's not the typical BL series you have in mind.
Created and directed by Shandii Bacolod, this erotic-suspense drama series follows four couples going through different aspects of their relationships.
After NASA confirms an asteroid hitting Earth in 7 days, the couples' priorities quickly change and panic ensues.
Bacolod describes this nine-episode show as an "ode to loneliness," which features a cast of rising and award-winning actors.
Recently, Village Pipol had a chance to interview four of the ten cast members.
Get to know Kristof Garcia, Markki Stroem, Nico Locco, and Yam Mercado and their unique takes on filming Love at the End of the World.
The only son
Kristof Garcia became known to the public eye when he joined the Bidaman segment of ABS-CBN's It's Showtime.
With over 500,000 Facebook followers, he excites fans with his upcoming role in Love at the End of the World.
He gives life to the role of Ben Mercado, an army general's only son who has a hard time coming out to his father.
"Galing sa may kayang pamilya, favorite son kaya mahihirapan na mag-out sa father niya. Kung paano niya ipaglalaban ang kanyang kaligayahan, 'yun ang kailangang abangan."
Moreover, he portrays the role alongside Rex Lantano and Mike Liwag, both playing characters significant to Ben's romantic relationship with them.
Kristof, revealing how he was not the first choice for the role, describes how he felt after accepting portraying Ben.
"Medyo mabigat at challenging kasi ang role kaya nahirapan makahanap ng matapang na tatanggap nito. Kabado and excited at the same time 'nung pinili nila ako na gaganap kay Ben."
A role igniting passion
Being new to the realm of BL series, he felt nervous, at first, when the role was given to him.
However, after creator-director Bacolod told him the series' story, his passion for acting prevailed his anxieties.
"Mas naging excited ako, dumaloy 'yung passion ko sa pag-arte. Thankful ako na sa akin binigay ang role na ito. Kakaiba 'yung series at ang ganda ng mga binibigay na lessons. Naisip ko din na kung hindi ko siya gagawin ngayon, kailan pa? Gusto kong ma-challenge at gusto ko ipakita na isa akong artista na hindi limitado ang kayang gawin para sa isang proyekto."
Furthermore, Kristof gave us a preview of who Ben is by explaining how he could relate to him.
"Like my character Ben, I always thing about the welfare of my family and friends, but I follow my heart and do what I love. Pareho din kaming matigas ang ulo pagdating sa love, sinusugal ang lahat para sa taong minamahal. Sobrang hardcore 'pag umibig kaya sobrang sakit din kapag nasaktan."

The emotional caretaker
Love at the End of the World marks the second BL series for Filipino-Norwegian actor Markki Stroem.
The Pilipinas Got Talent finalist, known as the Contemporary Crooner, excites his 200,000 Instagram followers with his role.
He gives life to the role of Mark Anthony Handang, a caretaker to a blind homosexual man named Rener.
"I play the role of Mark Anthony Handang, a boy from the province who represents everything that is good in the world. He is a live-in caretaker to a blind old homosexual man called Rener. He is highly emotional, caring, and very simple."
Markki acts alongside Khalid Ruiz and Arrian Labios in this series.
In addition, Ruiz plays Kaloy, Mark Anthony's co-caretaker, and lover.
He helps him take care of Rener (Labios), who attempts to take his own life.
Markki moved himself to take the role as he has "an affinity in taking on challenging roles and interesting stories."
The depth and complexity
Mark Anthony has become one of those, with the actor-singer loving his depth and complexities.
"I loved the depth of the character and wanted to understand the complexities of being impoverished yet living a simple but fulfilling life. I also have a soft spot for LGBTQIA++ roles because, for me, there is so much more depth to their stories. To understand the feeling of being shunned by society because of archaic morality principles, especially in the Philippines."

Furthermore, he explains how he prepared for his role, which includes getting a tan and getting an accent coach,
"I lost 5 kilos, got a tan, worked out twice a day, got an accent coach to help me with the probinsiyano Bisaya-Tagalog fusion accent. I would listen to it every day until I was able to get the lines right. I'm not too affluent at Tagalog, but I am a theater actor, and accents are my specialty."
For Markki, he can relate to Mark Anthony as he recalls his past self with the character.
"I feel like in my younger years, I was similar in a way because I would also do everything AND GIVE MY LIFE to the people I dated. I would live my life through them. Although, now I have grown to love myself more, and I won't allow anyone to take my life away from me anymore. Mark, on the other hand, had no other choice."
The American tourist with a dark past
Nico Locco gives life to the role of Tony Smith, an American tourist with a dark past.
Carrying a lot of emotional baggage, Tony travels to the Philippines to commit "the perfect suicide."
He acts alongside Gold Azeron in the series. His character, Ian, grows closer with Tony, relieving the latter's plans of suicide.
"[He] ends up randomly meeting a young boy named Ian. They fall head-over-heals for each other and Tony discovers new reasons to live out his remaining days on Earth before the end of the world."
Furthermore, Nico says he found Tony relatable, especially when it came to his personal life.
"The character of Tony was sobrang relatable to my personal life when I was younger. Hindi naman every detail pero the basis of the character and the overall challenges he faced sa buhay niya were something I could easily understand. Kaya I knew I would portray the role effectively and give it the proper justice it truly deserved."
A truly relatable character
The actor firmly believes he worked hard for the role, even going far as to learn a unique acting technique.
He does "Stanislavski's system mixed with the Meisner Technique" to express the complexity of Tony.
"Swerte ako kasi I have the opportunity of training as an actor all over the world kaya marami akong tools when it comes to breaking down a script."
Moreover, Nico believes majority of Love at the End of the World's viewers could relate to Tony in some way.
"Marami akong instances sa buhay ko where gusto kong sumuko sa mga ginawa ko kasi I felt alone and rejected from people. I pulled on those experiences and used them to fuel my emotions throughout the series."
The chemical lover
Alongside Elijah Filamor playing Renzo, Yam Mercado plays Cris Loyola, who he describes as one of the "chemical lovers."
"We are the chemical lovers. Cris is very short-tempered and emotionally unstable. But being with Renzo makes the world a better place."
For Yam, his role at Love at the End of the World goes beyond his roles in past projects.
"Sobrang interesting for me ni Cris, kasi he's the total opposite of all the roles I've done before. And it's an opportunity for me to have that growth as an actor."
Portraying Cris led Yam to get to know his character way better and follow the method approach of acting.
"I really did get intimate with my character Cris. Kinilala ko siyang mabuti kung sino siya at kung paano tumatakbo 'yung isip niya and it led me to the method approach of acting. I also watched series and films to get inspiration. And I am teamed up with a very good actor, Elijah Filamor, what else can I say?"
Releasing his inner frustrations
When asked how he could relate to his Love at the End of the World character, Yam believes he released his inner frustrations in portraying the role.
"Cris feels like the 'frustrations' I have within me. He feels like the embodiment of all the tension and negativity inside me. He can say the words I cannot say, he is confrontational. It's like he represents the devil inside of me. But of course, I own my body and I choose kindness."
A unique BL series
All cast members firmly believe that Love at the End of the World is an out-of-this-world BL series.
They see the erotic-suspense drama as a BL series that veered away from the usual theme of other shows.
Markki said,
"Love at the end of the world is so out of the box! I love the mind of our director Shandii Bacolod. It is an apocalyptic erotic drama that deals with 4 couples in their last few days on earth. It is so hard to understand the complexities of what goes through one's mind when one knows the end is near. Will you find your parents, will you spend time with your fur babies, will you go on a final adventure? In the end of the world, there is only LOVE and Forgiveness."
In addition, Nico explained,
"This isn't just a BL series, it's full of so many other aspects that will provide viewers with an experience they've never had before. From the script, to the cast, to the production, to our fabulous Director Shandii Bacolod, this series is something that has never been done here sa Pilipinas and Asia."
For the cast members, they think the best part of filming was doing a lot of 'firsts' and bringing life to roles with a purpose.
Kristof said,
"The best part filming the series is the whole experience. Doing the scenes for the first time, it felt so good kapag naririnig ko 'yung 'good take!' kasi akala ko hindi ko siya magagawa nang tama."
On the other hand, Yam said,
"There are so many firsts that I did in this project. So for me, the whole experience is the best part. Yes, I love the feeling of being nervous every time, the feeling of telling myself that I got this, every moments before take, my heart skips a beat."
Picking-up learnings
For Kristof, Markki, Nico, and Yam, they have learned a lot when it came to taping Love at the End of the World.
Kristof learned how to embrace his flaws and imperfections with his portrayal of Ben.
"Hindi ko kailangang mag-mukhang perfect sa harapan ng camera and naging sponge ako na in-absorb ko lahat ng pwede kong gawin at gamitin sa scenes. I also learned about the struggles of the LGBT+ community lalo na sa mga pinagdadaanan nila sa mga pamilya nila."
Nico, on the other hand, learned more a lot about himself when it comes to his job as an actor.
"I learned more about myself as an actor talaga. I always believed in myself and knew that I would be a successful actor someday pero being able to portray roles outside of my comfort zone like this just gives me more validation that I'm on the right track."
On the other hand, when it comes to the viewers, the cast members believe they, too, can learn a lot from watching the series.
Markki said,
"What people can learn from this series is we only have one life to live. Live it wisely. Hug your loved ones as often as you can, because you never know what tomorrow brings."
Moreover, Kristof said.
"Live life to the fullest but with responsibility. Magmahal habang may pagkakataon at pahalagahan ang mga taong nakapaligid at totoo sa'yo."
Love at the End of the World, under Temporary Insanity Pictures, will premiere on December 30, 2021, on GagaOOLala.
Publisher | Richie de Quina & Gwynn Crisostomo
Editor-in-Chief | John Luke Chica
Junior Editor | Kobe Adam Joshua Laurena
PR & Advertising Manager | Josh Austria
Digital Manager | Allen Esteban
Words by Kobe Adam Joshua Laurena
Producer | Shandii Bacolod & Nazamel Tabares
Shoot Coordinator | Rich Mamangon
Talent Coordinator | Chichi Cardona
Photographer | Mark Neto
Grooming | Yves Marcelo
Hair | Christian Bojo
Assisted by | Barbie Torres
Stylist | Jhay Layson
Special Thanks to Tea Ni Juan and Jacko's Burger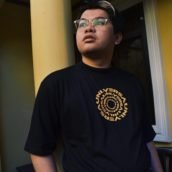 Kobe Adam Joshua Laurena
Kobe Adam Joshua Laurena is a writer who loves to tell stories from the perspectives of different people and everyday life. Apart from the pen, he loves to pick up the lipstick to transform into his frustrated drag persona: Anita Good Lovin'. He aspires to combine his love for writing and drag by creating a novel, short story, or screenplay about local drag queens in the future. He also has an obsession with sitcoms, women's pro-wrestling, and Funko Pops.