VP/Spotlight: Christian Antolin, Here Comes the Comedy
Tiktok continues to be a platform that produces some of the most promising artists and entertainers of this generation. It allows users to be who they are as the app lets them build the content they want. This, in turn, defines their online persona.
TikTok as a great platform for rising artists
Different categories appear from here and there, ranging from makeup to acting to politics. If there's something that interests you, there is a great chance that a certain side of Tiktok will appease you. Of course, this also means that other realms of the app will also come off as cringey. (whispers: Straight Tiktok)
An all-time favorite, however, one that definitely stands the test of time across every app, every platform, and every mode of entertainment, continues to dominate the scene, and that is… you guessed it, Comedy!
One comedian, in particular, Philippines' very own, continues to make us laugh on Tiktok. There really is no dull moment with this content creator. We've had a chat with him recently, having the pleasure to ask him about his career as a funny guy.
I particularly find him hilarious. Every time he passes by my FYP on Tiktok, and even on Facebook, his videos make me laugh. As they are not only very witty but they are also not dated like the other comedians. Somehow, he always finds a way to make it timely.
We're talking about none other than Christian Antolin—Marga, Cassy, Nanno, and his other characters, all in one.
Christian didn't really plan on joining the app
The rising entertainer joined the app in March 2020. Christian detailed how he didn't intend to treat it as a job, but mainly, due to boredom during the pandemic. As he put it,
"Wala, sakit na ng mata ko kasi kakasunod sa subtitle ng mga KDramas. Eh hinahanap rin ng katawan ko yung work at kabusy-han. So out of boredom lang talaga si TikTok until people started noticing me. Ay pak, gow gawa pa tayo. Masaya kayo ha… heto sa inyo! Ganon."

Christian on his reason for joining the platform
Christian appreciates the platform for its positivity and the good vibes it provides. He mentioned how even those who do dance trends and look cute and pretty, receive lots of attention and likes. The comedian thinks all who use the platform and get recognition, deserve everything they get.
Christian as a natural comedian
When asked about being perceived as a very humorous guy, considering all of his hilarious content, the online jester didn't hold back in detailing how he is much "crazier" with his friends and family.
"Most of the time I am funny and very happy whenever I'm with my friends and family. Especially kapag kasama ko mga friends ko. Bardagulan talaga! Mas malala pa ako sa personal kesa sa mga contents ko."

Christian on his humor with people close to him
Reaching dreams and aspirations
Aside from his undeniable wit when it comes to his other comedic personas and laughable skits, Christian also talked about encouraging people with their dreams.
According to him, each and every one of us has an artistic side or talent. The TikTok star even mentioned how manicurists can do nail art despite not having a bachelor's degree in Fine Arts.
He believes that we can be who we want to be but also be honest when it comes to what we really want and dream of.
"I've been wanting to be an architect pero saan ako dinala ng tadhana, sa paggawa ng video content. And mas nararamdaman kong nag-eexcel ako dito."
Christian even dedicated a message to the dreamers out there to never stop reaching for their goals and that there is no rush.
"So if ikaw, kung nababasa mo man to, explore also on your artistic side or on your talent, malay mo yang mga katangian na yan ang makakapag paangat at magpapasaya sayo. Explore mo lang ses ang buhay, till malaman mo kung saan ka talaga nababagay. No rush!"

Christian on having dreams and aspirations
Finding his purpose in life
Being one of the best sources of content that make us laugh, who could possibly be inspiring the comedian? Of course, we didn't forget to ask him that. And in a heartbeat, he answered,

My followers.

Christian on who inspires him to continue making videos
But of course, being the guy of wit that he is, he didn't fail to give a little twist to this answer. He shared how not only do his followers inspire him but also make him feel some pressure. This honestly made me laugh.
"Di na nga lang inspired eh. Pressured na rin haha lalo na yung mga tanong ng tanong, 'Saan na bideo mo?' so ako naman, 'Ay wait lang, mhie… may personal din akong buhay,' Chariz."
Kidding aside though, the pambansang ses detailed how his followers continue to be the reason why he continues to make videos. The constant support that he receives and the contentment of making other people happy are priceless, eventually making him find his purpose.
"Pero sila talaga inspiration ko. Every time na may nababasa akong messages na I make them happy, it makes me happy too. It motivates me to make more content na makakatulong sa kanila. And actually through them, I found my purpose in life."
What is the most hilarious about today's political climate?
Christian Antolin is, indeed, one of the more influential entertainers of our time. And since the 2022 presidential elections is fast-approaching, what makes Christian Antolin laugh the most with regard to today's political climate.
The social media star didn't name any particular candidate that he supports or opposes but one thing is for sure—his distaste against fraud or false accusations.
"The people actually. Yung mga supporters. Nakakatawa kayo. Kasi kaya nga 'supporter' kayo eh, susuportahan niyo ang kandidato niyo. Pero ang ginagawa niyo, sinisiraan niyo yung ibang aspirant. Like gorl, bat ang toxic natin?"
The influencer even followed it up with a joke, saying how he's so tired of his Facebook friends.
"Umay na ako sa mga facebook friends ko, kaunti na lang talaga gagawa na lang ako ng bagong account. Inyo na yang account ko. Chariz! Hahah wag tayong manira ng tao—aspirant man o ordinaryong tao. Support support lang tayo, mhie!"

Christian on the most hilarious thing about today's political climate
Here comes the comedy!
Christian Antolin is like a factory of entertainment that never stops producing noteworthy and amusing content. We're just very grateful that we have something like him who we rely on during these darkest times.
We can also feel the Christmas breeze touching our very own skin. Let that get you in the holiday spirit and indulge yourself with more Christian Antolin videos. Laugh to your heart's content! Be happy this Holiday season. Here comes the comedy!
Publisher | Richie de Quina & Gwynn Crisostomo
Editor-in-Chief | John Luke Chica
Senior Editor | Rapha Garcia
PR & Advertising Manager | Josh Austria
Digital Manager | Allen Esteban
Words by Rapha Garcia
Producer | Josh Austria
Creative Director | Jowie Namayan
Set Design | Jayroh Laguardia
Photographer | Mark Neto
Grooming and Makeup | Paige Seneres
Hair  | Jufel Gomez
Stylist | Janno Novenario
Assisted by  | Nash August
Nails | Bhads Castor
Red Suit | Jose Ricamonte Karganilla
Special Thanks to Tea Ni Juan and Jacko's Burger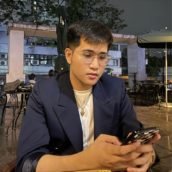 Raphael Garcia
Raphael is a person born between the generations of Millenial and Gen Z. He was produced by Cavite State University (Main Campus) with a bachelor's degree in Political Science. The lad has a fresh take on things, but can still stay true to his roots. He writes anything in Pop Culture as long as it suits his taste (if it doesn't, it's for work). He loves to wander around the cosmos and comes back with a story to publish.