There's a common misconception that eating red meat is bad for one's health. But here's the fact, consuming any food more than the recommended portion is the culprit.  In a moderate amount, red meat is really good for you. It is a nutrient-dense food that contains protein, essential amino acids, vitamins, and minerals. And we know, you cannot go wrong pairing your cold glass of beer with a plate of crispy sisig. Already craving? Then join us in our new discovery of U Got Hangry and U Got Shawarma!
A kitchen experiment turned into a profitable venture
Jefferson Lambayan Rosete is just like us who craved for different kinds of food during the quarantine. One day, he tried to satisfy his shawarma cravings by making his own version. Then he realized that his kitchen experiment tasted pretty great. He decided to share this with others so he came up with his very own food business "U Got Shawarma".
While others are experiencing struggles during the pandemic, this owner is strategic enough to turn threats into opportunities. Instead of dwelling on the problems, he motivates himself to focus on the business. Needless to say, his positivity and trust in God helped him conquer the challenges as a new entrepreneur. The customers who patronize his products also pushes him to continue even there were hardships. With these experiences, he advises other business owners these tips: "Just keep Faithing. Believe in God at all times. Believe in yourself at all times. Wholeheartedly face all of your challenges in your life. Have a positive outlook I life and be persevere to all of the challenges you might face. Lastly, learn to accept and learn to hear criticisms."
High-quality ingredients, affordable price, and excellent food presentation
After starting U Got Shawarma, Jefferson Lambayan decided to establish another brand "U Got Hangry" to sell Pinoy dishes like sisig, dinakdakan, creamy tofu, and many more.  He took the time in the kitchen to perfect them in terms of taste and presentation.
Aside from that, he believes that when it comes to food, the freshness, and quality of ingredients are truly important. He adds, "We ensure that the quality of our will not change to satisfy our customers. We ensure that our products will not only look good but also will taste good. It must be Instagrammable at all times."
Jefferson's efforts were not in vain since almost all of his customers are satisfied with the taste of the food and the smooth service of his online shop. Even though he has several competitors,  both U Got Shawarma and U Got Hangry is serving the best in terms of quality and quantity. Some even compared the products to well-known brands. He mentioned, "They say that my shawarma tastes better than other popular shawarma stores. They also say that my menus in U Got Shawarma and U Got Hangry were cheaper than other competitors."
To order from U Got Shawarma and U Got Hangry, try sending a message on their Facebook and Instagram accounts. The shop is located in Marikina City and they have a personal delivery boy for customers living in that area. But they use Lalamove for deliveries outside Marikina. They are open from 11 AM to 8 PM from Monday to Sunday. For payment modes, you can choose either from GCash or Cash-on-delivery. As of the moment, they are having a limited-time promo such as Buy one Take one for French Fries. There's also a Buy 4 Shawarma get FREE milk tea. In the future, U Got Shawarma is planning to add Baked shawarma and Kebab so customers can try them soon.
Planning a food trip with your family or buddies soon? You'll never go hungry with the portions from U Got Hangry and U Got Shawarma!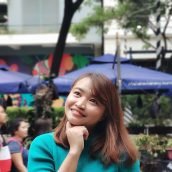 Queenie Lastra
Queenie Lasta got her bachelor's degree in Communications Research from UP Diliman. In her free time, she likes to read thriller novels, psychology books, and mangas. She believes in the importance of grit, hard work, and passion to become a great writer in the future.