Angelo Troy Rivera, popularly known as' Gelo', is from the PPOP boy group BGYO under ABS-CBN's Star Magic.
Gelo is BGYO's leader, lead rapper, lead dancer, and visual of the group.
He became an official member of BGYO on January 29, 2021, with the group's debut song "The Light."
With 158k+ followers on Instagram, @bgyo_gelo, he's got the talent and a dashing visual and fashion style!
Let's take a look at these photos and get to know him more!
Boy Next Door
Gelo is the lead character in a cute romance-comedy series that we love to watch!
This neutral-colored outfit from top to toe looks good on him!
The chocolate brown overlaid on a tan turtle-neck with long sleeves is fashionable.
But did you know? Before Gelo became a member of BGYO, you would often see him at dance competitions.
Gelo was a member of a dance crew in the Philippines called the A-Team.
He said in an interview during the BGYO Media Launch, that he found happiness through dancing.
Dancing has become a medium for him to express himself, and it makes him feel that he is doing a good job.
Shining in Black and White
What would you do if the world turned black and white and you met this guy?
Gelo is looking debonair in this BW photo where he is the subject with only color.
Another photo of one of those K-dramas, wearing a knitted sweater while both of his hands are tucked in his pants.
He's going to give you the warmth of care on a cold night.
Gelo has been a very warm person despite how cold life's struggles are.
Gelo shared that he came from a broken family and sometimes he wished to see his parents together again.
This made Gelo feel sad, but it did not hinder him from achieving his dreams. He used it instead as something that could still make his parents proud.
Being the leader, Gelo is doing his best to keep the BGYO relationship strong.
Their training is hard, but he makes sure that the group rests and gets back up again.
He also checks in with his members; he makes sure that they feel okay before performing on the stage, because what he wants is for BGYO to perform their best.
Standing Out in Colors
Gelo's outfit and pose stood out in this photo filled with bright yellow and orange colors.
He dazzlingly strikes a pose with his black and white outfit, along with blue denim pants.
He can totally stand out anywhere!
Aside from dancing, Gelo's hobbies also include playing in theaters, listening to music, and eating food.
See Also
Gelo grew up listening to Ne-Yo, Usher, and Chris Brown. However, his music preferences changed when he discovered K-POP.
His favorite KPOP groups are EXO, BTS, NCT, Stray Kids, and Twice.
Mestizo
Gelo looks so attractive in this modernish Filipino Barong in their Kundiman Music Video.
He is the man of your dreams that you would want to see serenading you Infront of your house!
We can see how strong Gelo's determination on pursuing his dreams that it took him to where he is right now.
Moreover, Gelo dreams of having collaboration with choreographers Keone Madrid, Sienna Lalau, and Paris Goebell.
Also with local artists like Jess Connelly, Jason Dhakal, and Kiana Valenciano.
Looking Right for his bright future
Gelo is accentuating his side profile along with his stylish outfit in this photo taken in Burj Khalifa.
His hair a little bit messy on the front goes along with his dark blue and black polo matching with white pants and rubber shoes.
The light from the window adds extra perfection to this photo!
Gelo's motto in life is "There is beauty in chaos." from which we can see how he tries to see and do good despite the struggles he is facing in life.
Despite hardships, he still aspires to be a good person and have perseverance in achieving his dreams.
You can see more of Gelo and other BGYO members on Instagram @bgyo_ph and watch their music videos at BGYO official on YouTube.
Soar high with BGYO, Gelo!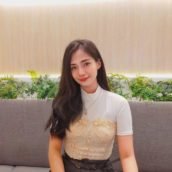 Veronica Louis Gannaban
Nica is a resin artist, watercolor painter, and writer. She loves putting art into life because it feels liberating. She believes that the most powerful form of art is through words, for it can set us free. Her life is sweeter than fiction because of Taylor Swift's music, fur babies, and chick flick movies.