Anji Salvacion's "Ang Singing Sweetheart ng Siargao" has recently won as the Pinoy Big Brother Season 10, Big Winner.
The rising young artist also competed on Idol Philippine in 2019, where she progressed to the Theatre Round.
Showcasing her talent in singing, Anji recently released her debut extended play titled "KasingKasing Dalampasigan" composed of six songs she wrote.
This EP is about how love feels and reminds the listener that love starts and ends with yourself.
Her talent and genuine personality made her fans which she calls 'Sunshines,' love and support her even more.
She is not just talented but a gorgeous young lady too!
She got visuals that could make any outfit look sophisticated!
Let's look at how Anji gleams in these chic outfits and get to know her more!
Glamour in White
Anji is executing an elegant look in this white long-sleeved bodycon dress with her hair tied, highlighting her features.
Filipino stylist Drew Lacia styled her; he knows what could look perfect to her!
This beauty in white was born in Surigao City in Siargao.
Her song Dalampasigan is about the love she experiences on Siargao Island.
Especially the love she received from her father, whom she is still looking for after it was gone missing eight years ago.
Despite the longingness and struggle she faces, Anji still perseveres in achieving her dreams while keeping her hope that soon enough, things will all be better.
In Classic Corset
Well, Anji proves that a corset isn't just an overlay for dresses!
She is wearing a corset on top of a skin tone long sleeves paired with brown checkered trousers; it looks classic and edgy!
What to love more about Anji is that her kindness is very classic.
She uses her talent not just to gain popularity but to help people in need.
She performed her song Dalampasigan in a livestreamed benefit concert "Tulong-Tulong sa Pag-ahon: Andito Tayo para sa Bawat Pamilya" of ABS-CBN Foundation to raise funds for the survivors of supertyphoon Odette.
Shining in Violet
With fierceness in her eyes, Anji is ready to conquer the world while wearing this bodycon sparkling violet dress.
In an interview with Boy Abunda on YouTube, Anji shares that she sometimes joins auditions and gets rejected.
However, those rejections did not stop her from trying again, and she would often say to her mom, "may next time pa."
Anji does not let rejection demotivate her; instead, she uses it as an inspiration to continue achieving her dreams.
The recognitions Anji receives right now are pure hard work and passion for giving something in the music industry.
Like what color violet symbolizes, her everlasting love for her dreams, family, and friends took her from where she is right now.
Giving warmth in a stylish way
Matching up the coolness of the sky, Anji is wearing a tan knitted body con dress with a pair of long leather brown boots.
The young artist is just 19 years old with a 5'6 height tall enough to reach her goals.
Despite issues and hate comments against Anji still choose to give the Warmth of her kindness.
Tito Boy has asked Anji about the issue with her fellow housemates KD Estrada and Alexa Ilacad, who became a love team after leaving the house, setting aside her partnership with KD.
Anji did not avoid answering the issue and genuinely said that she was happy for them, contradicting the bashers who accused her of being bitter.
She believes those two deserve where they are right now and does not feel any hatred toward them.
On Fleek with Neon Green
Anji gives us a diva performer vibe in these white cropped top and neon green silk pants.
She is a very versatile artist for she does not only sing but also dances and plays ukelele and guitar.
Ever since then, performing has been in the heart of Anji; before she got to have her debut album, she sang on several television soundtracks.
Anji is the singer behind "Keeps on Coming Back" for Unloving U, "Buo" for Marry Me, Marry You, and "Don't Be Afraid" for My Sunset Girl.
Born to be a Star
Anji rocks the Mega Ball with classic with a feathered slip dress, latex gloves, and sparkling silver long boots.
Shining in a black dress, Anji is an artist we should look out for.
She recalls a memory in The Interviewer where her father told her to look at the stars because someday she's going to be one of them.
And Anji is genuinely now a rising star.
Anji is the new host of Bida Star Singer, giving way to aspiring artists who want to be like her.
For her future endeavors, she aims to be a star in a teleserye and hold a concert in Araneta Coliseum.
Follow her Instagram Account (@_anjisalvacion_) for more updates about her career.
We are rooting for more success in your career, Anji!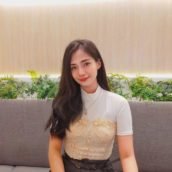 Veronica Louis Gannaban
Nica is a resin artist, watercolor painter, and writer. She loves putting art into life because it feels liberating. She believes that the most powerful form of art is through words, for it can set us free. Her life is sweeter than fiction because of Taylor Swift's music, fur babies, and chick flick movies.