Sheena Mae Catacutan is the youngest member and main dancer of the P-POP Girl Group BINI, which debuted last 2020 with the single Born to Win. Before being a part of BINI, Sheena became one of Pinoy Big Brother Season 8 Teen Edition housemates, where she was called the Dance-Irella of Isabela.
Even before she is not in showbiz, Sheena has been very passionate about dancing that she joins dance school competitions in high school. Joining Star Hunt Academy further improved her dancing skills, especially in hip hop.
Sheena's TikTok Dance Challenge of Zoom by Kpop Star Jessi has recently trended. With her swag and smooth moves, Jessi has noticed and commented on her video. But did you know that Sheena is not just a good dancer but very stylish too in wearing neutral clothes?
INSTAGRAM RAID: BINI Sheena styles neutral-colored outfits in the most fun way
Matching neutrals from head to toe
Sheena looks very editorial wearing this Walnut corset paired with a tawny leather skirt and skin-tone long boots. She completed her outfit with an artichoke with brown checkered lines flannel coat! In this outfit, Sheena is ready to rock the dance floor.
Despite her talent in dancing, the artist never stopped improving her skills as she went training at Star Hunt Academy. Her dance coaches, Mickey Perz and Matthew Almodovar, helped her improve her moves. Likewise, to give us a quality performance, Sheena went to an intensive Korean training system with the help of MU Doctor Academy.
Always stylish, sometimes cozy
Do you want to make your outfit extra stylish but comfortable simultaneously? Well, you must copy this outfit from Sheena! A white pair of cropped top and jagger pants go along with a shade of chocolate brown and beige varsity jacket!
Despite the coziness of this outfit, Sheena went out of her comfort zone. From dancing to school competitions, she paved the way for dancing on big stages in the ABS-CBN. She performed with her members in BINI in shows like It's Showtime, ASAP Natin 'To, and Magandang Buhay.
Vibing With Intramuros
Sheena matching the exterior of Intramuros with a white halter top paired with brown zebra pants looks so good! As we can see, Sheena plans out her outfit and ensures it complements the place she is going.
Aside from having well-matched OOTDs, Sheena also loves browsing social media and eating. She also has this unique talent where she can bend her thumb.
All white in the sand
With such a happy smile and wearing an all-white outfit, Sheena stood out in Desert Safari Dubai. She looks free and refined like the sand!
See Also
In an interview with Metro Style, Sheena shared that one of her most significant wins in life is becoming a part of BINI. She got the freedom to showcase her talent and let people know that they are Filipinos capable of giving us quality music and performances.
Standing with modishness
Sheena looks sophisticated standing in front of a tall building, wearing a ribbon strap painted top and black pants.
Standing tall amidst the sun's heat, Sheena is someone who works hard and does not quit on achieving her dreams. Her favorite motto in life is, "Never give up. Don't ever think of giving up."
Applying this motto to her life made her where she is now. Sheena, along with her group BINI, has a lot of things to show us in the following years; having them for the PPOP music industry is an excellent start to showcase what Filipinos have to offer.
BINI will perform in the BE YOU, a concert to celebrate people with special needs, with BGYO, Lady Pipay, and KPOP Group Red Velvet this July 22 at SM Mall of Asia Arena.
We are looking forward to your future endeavors with BINI, Sheena!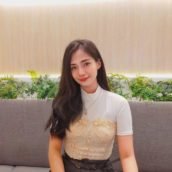 Veronica Louis Gannaban
Nica is a resin artist, watercolor painter, and writer. She loves putting art into life because it feels liberating. She believes that the most powerful form of art is through words, for it can set us free. Her life is sweeter than fiction because of Taylor Swift's music, fur babies, and chick flick movies.