Feel the love through coffee made by PWD baristas in Hisbeans, QC
Are you looking for a place in the Metro where you can peacefully read your book? Or a shop where you can chit-chat with your friend? Hisbeans in Quezon City is the perfect place to spend your leisure hours amidst the busy city. Hisbeans is just near the GMA Network building on Timog Avenue. From there, you can taste what love feels like through coffee.
Feel the love through coffee made by PWD baristas in Hisbeans, QC
Perfect for your IG Feed
Hisbeans' interiors are in neutral colors, making them perfect for your Instagram post. The place is cozy, with indoor plants surrounding the shop and warm lights illuminating it. Every corner of the place is aesthetically pleasing; thus, you can take many angles for your photos.
Satisfying your Cravings
Hisbeans has also a wide range of drinks that you can choose from. You will never run out of choices from coffee to Hibeaccino, brewed tea, and ade. Likewise, you can select add-ons for your drink, such as Espresso shot, syrup, and whip cream.
Furthermore, they have pastries like bundt cakes, as well as brownies with ice cream on top and more!
With PWD Baristas
What's more beautiful about this place is that the baristas belong to the PWD community. Hisbeans is also a social innovation brand that develops a working culture with PWD experts. Besides, they are aiming to create a society where people with disabilities can work happily. Despite their disabilities, the baristas make the premium taste of drinks and quality service. In addition, they put dedication to promoting inclusivity for PWDs in the working class.
Above all, they practice a working culture that will stop the stigma of disability.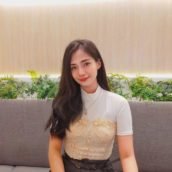 Veronica Louis Gannaban
Nica is a resin artist, watercolor painter, and writer. She loves putting art into life because it feels liberating. She believes that the most powerful form of art is through words, for it can set us free. Her life is sweeter than fiction because of Taylor Swift's music, fur babies, and chick flick movies.