The onset of sweater weather is the perfect excuse to indulge in coffee and comfort food desserts that warm you up from the inside out. And who doesn't need a little extra comfort right about now?
The story behind Cakes, Coffee, and Tea
Let us show you how cozy desserts and a great cup of joe from this charming coffee house to see you through snuggle season. We're talking about Cakes, Coffee, and Tea that is nestled in the "nation's coffee capital" in Amadeo, Cavite.
Luckily, we were able to interview owner Ms. Phoebe Cakes Lumandas about the story of this cafe. She has been exposed to the coffee industry since 2014 in a well-known American coffee shop in Singapore.
"Since then I started to love coffee until it became my passion. When we decided to settle down here in the Philippines due to my husband's family business, my greatest dream is to continue my craft."
The coffee shop sources out all the ingredients locally, including their aromatic coffee beans. They make sure that the ingredients are up to the standard by regular checking of their production dates, storage details, and packaging.
Aside from consistency in quality, Ms. Phoebe said that a good relationship with your staff and customers is the key to a successful business.
Upon arrival at the coffee house, I can say that both its interior and exterior are so on point. We immediately noticed the cute wall art in black and white on one side of their wall.
The shop seems small from the outside but it's actually huge and spacious. Going inside, its charming Scandinavian decors, with tons of wooden accents, will greet your eyes.
In the alfresco dining area, we also observed that they have several indoor plants, making the place more homey and relaxing. It's really the perfect spot to drink your coffee or tea while reading a book, working on something, or just chilling out.
They also had a wall lined up with greenery that is so perfect for Instagram. Feel free to strike a pose!
Savoring every bite with our senses
Now, let's go to our favorite part of the experience which is tasting their bestselling items. Since this place is Cakes, Coffee, and Tea we ordered cheesecakes and iced coffees of course.
My husband got their Spanish Latte while I had the Caramel Machiatto. The Caramel Machiatto was so good and creamy that I almost drank half of my cup in one sipping. There's a hint of sweetness from the caramel, of course, but I like that it's not overpowering the coffee.
I also took a sip on the Spanish Latte and I instantly tasted the cinnamon that perfectly blends with the strong coffee flavor. This one is suitable if you like a pick me up on a sleepy afternoon.
We also got curious about their new pasta selections so we had the Savory Chicken and Sausage Pasta. The pasta noodles were cooked just right and it's really good that they absorbed the sauce. The chicken strips and sausage chunks are all bite-sized and they pack so many flavors. As for the sauce, the slightly spicy and herby combination made us crave for more at every bite.
We already tried three variants of their cheesecakes with some of my friends in the past, but this time I have my eyes on their Dulce de Leche cheesecake. The base has the right thickness and buttery taste. I like that it does not crumble upon slicing it with a fork. The cream cheese filling is so creamy and divine that is perfectly paired with the caramelized milk or dulce de leche.
According to Ms. Phoebe, they often launch new seasonal drinks and pastries for their customers. For the month of November, they are offering Halloween-themed drinks.
How to visit or order?
If you guys are interested to try these luscious pastries and refreshing drinks, you can easily locate the coffee shop by using Google Maps or Waze. It's open from Monday to Thursday 8 am to 7:30 pm, Friday 8 am to 8 pm, then Saturday and Sunday 8 am to 9 pm.
Due to their limited manpower, they don't have their own rider yet. However, you can request delivery via Lalamove or other delivery rider apps.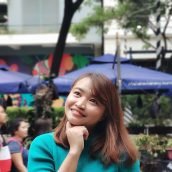 Queenie Lastra
Queenie Lasta got her bachelor's degree in Communications Research from UP Diliman. In her free time, she likes to read thriller novels, psychology books, and mangas. She believes in the importance of grit, hard work, and passion to become a great writer in the future.