As brunch is a combination of two meals, you can choose between both the breakfast and lunch menus, which is great for those who just never quite know what they want. This is also a terrific reason to unwind, connect with people you love, and let yourself indulge at the moment. Luckily, we stumbled upon a charming coffee shop in Silang, Cavite called 29/22 Coffee House.
A cozy coffee shop near a farm house
For me, this place is the perfect epitome of a lazy Sunday brunch with our close-knit friends and family.
The 29/22 Coffee House is located inside a farmhouse, so it has a homey and quaint vibe of the countryside. According to its Facebook page, Boyet and Sol Toledo founded this business in June 2021 with one goal in mind: "to serve our community simple and delicious eats that everyone can enjoy!"
The place itself seems hidden, but it's totally accessible from the main road. Just make sure to use the Waze app or Google Maps to avoid getting lost.
Comforting atmosphere inside and out
Inside, you'll be greeted with a large fountain and a lovely landscape of outdoor dining. They have enough seats for big groups and families both inside and outside the establishment. This is a huge plus, as al fresco dining is so much safer nowadays. For us, we prefer to enjoy the fresh air and greenery by having our meal outdoors.
Inside this coffee shop, I can definitely say that the interior is not only aesthetically pleasing but also relaxing. It reminds me of minimalist Japanese coffee shops with their off-white walls and well-chosen decors.
A vintage vinyl record player gives the place a distinct character and I find it amazing that it still works. One of the managers of this coffee house, Ms. Pia Toledo, even showed us their wonderful collection of records. She said that the vinyl player and all of their records are from their relative in the United States.
Apart from that, a large wooden cabinet with lots of paper envelopes also caught my attention. Ms. Pia explained how it's basically a new service in their coffee shop that they will be launching soon. They are going to let customers or diners write a letter to their future self. After that, 29/22 Coffee House will send them to their addresses a year from the date it was written. So cool!
Meals that will make you enjoy brunch even more
Now, let's proceed with the most favorite part of my experience: having our brunch. Let's start off first with the main course. We ordered three types of dishes: Mushroom Melt, English Breakfast, and the trendy Korean Egg Drop Sandwich. Just by looking at them, my mouth really watered. All of them got huge servings that I think two persons can easily share.
The Mushroom Melt is a buttery french toast with mounds of mushroom and cheese sauce. The sauce was really tasty and creamy that suits the bread. This dish comes with cheddar fries that are crunchy and evenly cooked.
According to Ms. Pia, waffles are one of their best-sellers so I ordered the English Breakfast. My plate was really full since it had waffles, two eggs, Hungarian sausage, bacon strips, and mixed veggies. I think substituting veggies on beans is a welcome change since it's lighter. The waffles are fresh and fluffy so I savored every bite. It goes well with all of the meats and veggies on my platter.
This cafe also did an excellent job on its version of the Korean Egg Drop Sandwich. Why? I have tried a bunch of egg drop sandwiches so I have high expectations. Their egg drop sandwich is simple and not gimmicky. However, they used fresh and premium ingredients from the lettuce down to the slices of ham. The bread was buttery and toasted just right.
Now, let's go to the coffees and beverages. We ordered three drinks as well: Caramel Machiatto, Spanish Latte, and Hershey's Frappe. The Caramel Machiatto has a strong Arabica taste that is creamy so my husband loved it.
Meanwhile, I like the Spanish Latte since I'm a huge fan of cinnamon. The Hershey's frappe is absolutely chocolatey and meant for those who have a sweet tooth.
For the service, on the other hand, the staff is friendly and fast in catering to our needs and inquiries. There are around four of them, but our order did not take too long. I also noticed that even the owner/manager is quite hands-on with the business.
So if you are planning to go on a short road trip, be sure to stop over and enjoy your meal at 29/22 Coffee House. Surely, you won't just leave with full stomachs, but with satisfied hearts as well.
Check out their Facebook page for more information!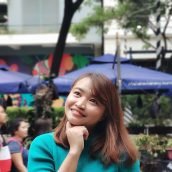 Queenie Lastra
Queenie Lasta got her bachelor's degree in Communications Research from UP Diliman. In her free time, she likes to read thriller novels, psychology books, and mangas. She believes in the importance of grit, hard work, and passion to become a great writer in the future.