Carlo Aquino showed off a surprise from Netflix Philippines: the iconic tracksuit from the survival drama Squid Game.
In an Instagram post last Thursday, October 14, the actor showed a package he got from the streaming service.
This included the tracksuit, an "invitation card," and a pouch of marbles, all of which were recognizable props from the series.
Furthermore, Carlo wrote,
"Better late than never! Thanks [Netflix Philippines] for the surprise."
Last September, Carlo disclosed how he almost got cast in Squid Game but he was not able to do so due to travel restrictions.
As of press time, there are no talks if the South Korean series will have a season 2.
However, Carlo's celebrity colleagues, upon seeing him in the tracksuit, expressed hope that he will be part of the cast if a second season will be in the works.
These celebrities include host Gretchen Ho, athlete Japoy Lizardo, and broadcaster Nina Corpuz.
Squid Game centers around 456 players competing in deadly versions of children's games for a cash prize of 4.6 billion won.
Netflix released the series for global streaming on their platform last September 17.
Since then, Squid Game has become Netflix's biggest original show debut, according to Netflix co-CEO Ted Sarandos.
What do you think of Carlo in his Squid Game tracksuit? Would you like to see him if the show would have a second season?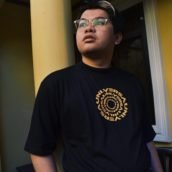 Kobe Adam Joshua Laurena
Kobe Adam Joshua Laurena is a writer who loves to tell stories from the perspectives of different people and everyday life. Apart from the pen, he loves to pick up the lipstick to transform into his frustrated drag persona: Anita Good Lovin'. He aspires to combine his love for writing and drag by creating a novel, short story, or screenplay about local drag queens in the future. He also has an obsession with sitcoms, women's pro-wrestling, and Funko Pops.