Carlo Aquino divulged how he had a chance to star in the hit Korean series Squid Game in the past.
The actor revealed the news on his Instagram Stories last Friday, September 24 through a throwback Instagram post.
The post, dating back to June 2020, consisted of a note from Squid Game director Hwang Dong-hyuk thanking Carlo for his efforts.
Moreover, he expressed working with him in the near future.
Carlo wrote,
"This was supposedly a role for Squid Game,"
Beatrice Candaza, sister of Carlo's girlfriend Trina Candaza, reposted his Instagram Story and revealed why he did not land the role.
It turns out travel restrictions were the main reason for the missed opportunity.
"[Carlo] was supposed to play a role in Squid Game but travel restrictions happened. I remember [Trina] calling me and saying that they'll stay in Korea for a few months back in 2020. I'm sure there would be more opportunities,"
Furthermore, Trina reposted Beatrice and Carlo's Instagram Stories, expressing how proud she is of her partner.
She said,
"I'm still proud of you, [Carlo]! Isipin ko na lang [na] ikaw si Ali,"
Had Carlo been able to travel, he would have been one of two Filipino actors to appear in the series.
South Korea-based Filipino actor Christian Lagahit gave life to the role of Player 276 in Squid Game.
Lastly, Squid Game, a survival drama series consisting of nine episodes, is about 456 players competing in deadly versions of children's games for a cash prize of 45.6 billion won.
Moreover, Netflix released the show on their streaming platform last September 17.
Could you imagine Carlo in a role in Squid Game? Let us know!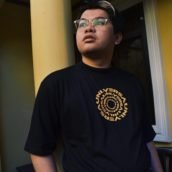 Kobe Adam Joshua Laurena
Kobe Adam Joshua Laurena is a writer who loves to tell stories from the perspectives of different people and everyday life. Apart from the pen, he loves to pick up the lipstick to transform into his frustrated drag persona: Anita Good Lovin'. He aspires to combine his love for writing and drag by creating a novel, short story, or screenplay about local drag queens in the future. He also has an obsession with sitcoms, women's pro-wrestling, and Funko Pops.