Liza Soberano reminded her followers to be wary of false information on social media.
This comes after the actress received news that someone used her photo to appear she supports the 2022 presidential bid of Bongbong Marcos.
A netizen brought this up to Soberano on Twitter, saying,
"Hi Ms. [Liza Soberano]. Please check and be aware of this one po. Ginagamit po nila ['yong] photos mo and pinapakalat nila na you are a supporter of BBM."
This caught the attention of the Kapamilya star, warning the public of false news on social media.
Moreover, Soberano said,
"Thank you for informing me. BEWARE OF FALSE INFORMATION EVERYBODY!"
Her photo where she donned red, the political color of Marcos, was uploaded on TikTok with the text "BBM is my president."
However, the original photo was from Save The Children, a non-profit organization that Liza represents as an ambassadress.
In relation, Soberano used her role to urge the Senate to pass the bill increasing the age of statutory rape to 16 from 12.
Evidently, she did this through a video message posted across her social media accounts.
Moreover, the Senate has since approved the bill in its third and final reading last September.
Furthermore, Soberano posted the false news about her on her Instagram Stories, saying,
"This is not true. Please help us report the account spreading this false information."
Thank you for warning us, Liza! Beware of false news everyone, especially in the midst of the upcoming 2022 national elections!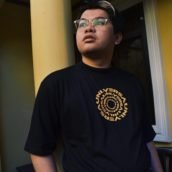 Kobe Adam Joshua Laurena
Kobe Adam Joshua Laurena is a writer who loves to tell stories from the perspectives of different people and everyday life. Apart from the pen, he loves to pick up the lipstick to transform into his frustrated drag persona: Anita Good Lovin'. He aspires to combine his love for writing and drag by creating a novel, short story, or screenplay about local drag queens in the future. He also has an obsession with sitcoms, women's pro-wrestling, and Funko Pops.