Janine Gutierrez recounted the time she discovered how showbiz runs in her family's blood.
On Instagram, last Wednesday, October 13, the actress shared family photos with the Gutierrez clan.
Showbiz in her veins
Janine comes from a family whose members have long been part of the entertainment industry.
Her parents are Lotlot de Leon and Ramon Christopher Gutierrez, while her paternal grandparents are singer Pilita Corrales and veteran actor Eddie Gutierrez.
Moreover, Janine also has star-studded maternal grandparents in the "Superstar" Nora Aunor and actor Christopher de Leon.
Furthermore, Janine is the niece of her father's half-siblings: Tonton, Ruffa, Richard, and Raymond Gutierrez.
A textbook discovery
Sharing old and new photos of her relatives, Janine likened her life story to the 2001 comedy film The Princess Diaries.
She wrote,
"If you remember that transformation scene in [The] Princess Diaries, super relate! But unlike Mia, I kinda knew my grandparents and relatives were showbiz royalty."
Also, she recalled how she discovered her showbiz roots, seeing photos of Pilita and Nora in her grade 2 Sibika book.
In addition, back in high school, Janine's classmates got starstruck by Richard and asked her for photos.
However, she admitted she never expected to be part of showbiz and resented it because of her parents' busy schedules.
"I really never expected to end up in the same industry. I used to resent it cause my parents' schedules were so unpredictable when I was growing up and I was also suuuper shy but here we are! Lesson is never say never!"
Grateful for family
Janine concluded her post by expressing gratitude to her family for being her inspiration in showbiz.
"Hi fam!! Thank you for the inspiration, hard work, and for opening doors for us. So grateful for you."
Janine began her career with the GMA Network and worked with the network until January 2021 when she signed with ABS-CBN.
Currently, she stars in the Kapamilya romantic-comedy series Marry Me, Marry You alongside Paulo Avelino.
What do you think of Janine's story of discovery? Let us know!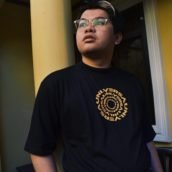 Kobe Adam Joshua Laurena
Kobe Adam Joshua Laurena is a writer who loves to tell stories from the perspectives of different people and everyday life. Apart from the pen, he loves to pick up the lipstick to transform into his frustrated drag persona: Anita Good Lovin'. He aspires to combine his love for writing and drag by creating a novel, short story, or screenplay about local drag queens in the future. He also has an obsession with sitcoms, women's pro-wrestling, and Funko Pops.