An upcoming game Pokémon Unite will let you team up and battle, MOBA style!
Pokémon is a well-beloved animation series, not only by the '90s kids but also by many game enthusiasts. Almost four years ago, Pokémon Go became a huge craze because of its use of AR technology. In this game, players have to go to places to catch and collect a Pokémon. This time around, the Pokémon Company is venturing the MOBA arena with the announcement of Pokémon Unite.
Pokémon Unite is a strategy game similar to League of Legends
In a live stream event called Pokémon Presents, they introduced Pokémon Unite as a real-time and team-based strategy game.  Tencent's TiMi Studios is still in the stages of development of the said game. This the same studio behind those famous free-to-play online games like Honor of Kings and Call of Duty Mobile.
The Pokémon Unite will be categorized in the same genre of League of Legends, Dota 2, Arena of Valor, and of course, Mobile Legends.  These games mentioned fall under the MOBA genre. MOBA stands for the multiplayer online battle arena. The gameplay entails battles that will be five-on-five.
Players can select from a variety of Pokémon such as favorites, Charmander, Pikachu, Squirtle, and Bulbasaur. In addition to that, they can also level up as they progress in the match. They will learn new skills while fighting across 3 lanes on the map. There is still tall grass to block vision and provide chances for ambush fights. Gamespot also reported that the game is enabling players to catch a wild Pokémon during battles.  On the other hand, there are numerous reviews of the game point showing new elements that are not present in the MOBA formula.
Even though Pokémon Company has experience on mobile with Pokémon Go, collaborating with a studio experienced with mobile MOBAs is a huge advantage. Timi Studios' experience with mobile MOBA mechanics combined with the charm of the Pokémon franchise and the enduring popularity of the genre are the factors to make the game successful.
The game will be free-to-play but according to the source,  there's a possibility for in-app purchases. It will be available on iOS, Android, and Nintendo Switch, with cross-platform play support.
No news yet about the launch date but we will keep you guys posted, of course.
Pokémon fans, let's all relax and wait for the release.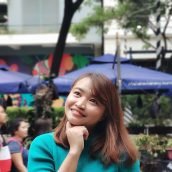 Queenie Lastra
Queenie Lasta got her bachelor's degree in Communications Research from UP Diliman. In her free time, she likes to read thriller novels, psychology books, and mangas. She believes in the importance of grit, hard work, and passion to become a great writer in the future.