Filipinos frequently used sites like Pornhub, Twitter, and Zoom during lockdown
CREDIT: Man of Many
When the government implemented the quarantine last March 16 in our country, we experienced many changes in our lifestyle like the way we work or buy things. But it does not stop there. According to research, there was a notable increase in website traffic for Pornhub, Twitter, and Zoom.
The behavior of Filipinos online when the quarantine was imposed
Since the majority of the establishment like businesses, offices, schools were not open, Filipinos became more engaged online. As a matter of fact, we became one of the most active users worldwide with an average usage of 10 hours a day. Digital research companies like SimilarWeb and Apptopia have data on internet usage when almost everyone stayed at home.
Filipinos heavily relied on video chats like Zoom to gather socially online and work from home. One example is Pamy Velilla-Hernandez, a client service director at a creative digital agency. She goes to work by signing in at 10 a.m. to answer emails and attend meetings. When she can, she'll do a quick workout, eat with her kids, or do chores. She explained further, "Because my work does not necessarily require physical presence, deliverables can be done remotely, so work was continuous and did not stop."
This graph below shows how frequent users opened and used this app.
Moreover, Filipinos are using Instagram, TikTok, and Netflix more than ever during the lockdown.  Dance challenges went viral as new users join the TikTok bandwagon, including a rather unusual appearance from presidential spokesperson Harry Roque. These graphs below depict session usage for each app that went up almost to 1M. It refers to the time a user opens the app on the phone, which can be multiple times a day.
In terms of adult entertainment, the usage of Pornhub also saw a remarkable increase of 2.3 M on the second day of lockdown. Research says that this was the highest spike in website traffic since early 2020.
More are recognizing the benefits of 'cashless' transactions
As for digital payments, Filipinos, in general, are still not knowledgeable in the concept of e-wallet. Based on the findings, 99 percent are still using cash for local transactions by the end of 2018. However, the lockdown saw a spike in downloads and usage for the GCash app. With people forced to stay at home, GCash became an easy method for people to send money to one another. They also used it widely in sending financial relief.
Do you think this trend will continue even the government is already easing on the restrictions?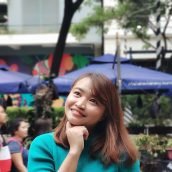 Queenie Lastra
Queenie Lasta got her bachelor's degree in Communications Research from UP Diliman. In her free time, she likes to read thriller novels, psychology books, and mangas. She believes in the importance of grit, hard work, and passion to become a great writer in the future.