An explosion of stars and colors — VP/Covers that made up our 2021
There is no denying that the past year has been tough for all of us. We have conquered some of the wildest things we could never even imagine. However, if we look at the silver lining, it definitely made us stronger and, somehow, even managed to give us some of the most beautiful memories.
Village Pipol Magazine's 2021 was indeed a year of challenges, but it is also a revolution of the liveliest colors and the brightest stars.
Personalities we have worked with gave us some of not only dazzling visuals but also the most valuable lessons. They have shared stories that we can apply to the most important aspects of our lives.
Get ready to be graced with the presence of these beauties. Here is a collection of all the VP/Covers that made last year worthwhile.
January
The introductory year of 2021 brought us Netflix's thriller Sweet Home and Miss Gritty, Riva Quenery.
February
In the month of February, we fell in love with Thailand's Boys' Love actor, Chanakan 'Boss' Poonsiriwong and the new breed fantasy, Teejay Marquez.
March
In March, the social media star turned self-made CEO Sachzna Laparan carried the whole month on her shoulders, empowering all the women who have read the issue.
April
Kid Yambao wanted to break the gender norms in his April cover, redefining the idea of sexy.
May
May gave us the iconic songstress Jessa Zaragoza and her beautiful daughter Jayda Avanzado. Joining them for the second issue is the amelioration Angelina Cruz.
June
We celebrated the month of liberation and pride with some of the most colorful moments. LGBTQIA+ icon Awra Briguela blessed us with her queenly beauty.
July
Since the rally and celebration of pride will never be over, in July, Avon released the inclusive line of underwear, Limitless Collection. We also featured the Boys' Love actors Kokoy de Santos and Elijah Canlas.
August
For the month of August, Sam Pinto shared with us her beautiful journey to enigmatic motherhood.
September
In September, Faye Lorenzo gets vulnerable with us as she uncovers the story of her dreams coming true.
October
The month of fright gave comfort to us instead with the thrilling talent of Kimpy Feliciano.
November
Yet again, in November, we have featured the actors of Boys' Love series, Love at the End of the World.
December
Last but not the least, authenticity reigns supreme as the love team of Kyline Alcantara and Mavy Legaspi graced our covers,
Indeed, 2021 has given us the best of these of rising stars. Stay tuned for an even more shiny roster of celebrities this new year. Let's start 2022 with a bang!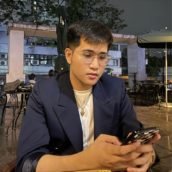 Raphael Garcia
Raphael is a person born between the generations of Millenial and Gen Z. He was produced by Cavite State University (Main Campus) with a bachelor's degree in Political Science. The lad has a fresh take on things, but can still stay true to his roots. He writes anything in Pop Culture as long as it suits his taste (if it doesn't, it's for work). He loves to wander around the cosmos and comes back with a story to publish.