VP/Spotlight: VXON, The Monster Rookies of Philippine Pop
The Philippine Pop industry has really grown over the past few years, producing a promising roster of idols—BINI, BGYO, Alamat, and of course the internationally recognized SB19.
The future of our country's music industry when it comes to a more revolutionary sound paired with the influence of Korean Pop has never been so bright. Of course, that means the production of more artists that continue to meet the standard.
VXON, The Monster Rookies of Philippine Pop
Enter the group dubbed as "The Monster Rookies of P-Pop," VXON. The term actually stemmed from the K-Pop industry which means those who have achieved so much very early in their career.
The P-Pop group was able to achieve the third spot in Twitter Philippines' Top Trending list as people dub them Monster Rookies. Also, in a span of just almost two weeks, the Edrex Sanchez-directed music video for their debut single, The Beast, has already gained almost 200,000 views on YouTube which is a huge number for a group of Philippine Pop who just debuted.
The name, VXON (pronounced as "vision") is a collaborative effort between the management and the members. "V", the Roman numeral for "five", represents the five individuals. Vision, on the other hand, stands for their various backgrounds, forming a group and meeting through a single vision. That is to help uplift P-Pop and inspire others through music and arts.
Just like other fandoms, of course, they also have their own. VXON calls their supporters, Vixies, which, according to them, came from the fans themselves. It can be interpreted as "little VXONs".
The overwhelming success of 'The Beast'
When asked about the group's success early in their career, the members didn't hesitate to show their appreciation to their supporters. Franz, the group's main vocalist shared,
"We're very humbled to be called the 'Monster Rookies of P-Pop'. At the same time, marami pa po kaming dapat patunayan as rookies. And we're very happy na supportive yung fans po namin, yung Vixies. We promise to give you more."

Franz on their successful debut
On the other hand, the leader of the group itself, Christian Saraos, now known for his stage name, C13, also added,
"Yung mga Vixies po namin, sobrang nakakatuwa po sila. Kami po kasi, nakikipag-interact kami sa Twitter and nagkakaron ng bonding. Super happy po namin na nandyan po sila para sa'min."

C13 on the support given by their fans, the Vixies
Sam, VXON's lead rapper and lead vocalist, also made the Vixies feel his appreciation for them.
"Siyempre, starting po, di po namin ineexpect na 'yun nga po, magiging trending kami sa Twitter. We're just doing our job as individuals na nakikipag-interact sa mga supporters namin. Sobrang happy namin na sobrang active ng fans namin."

Sam on VXON, trending on Twitter
'The Beast' and the people behind it
The Beast, the group's debut single is a song written by C13, Franz, Sam, and KnockLoud. During the time that VXON is talking about their debut song, they reached out to C13's team in Korea to collaborate. The members then worked with the composition of the lyrics and the melody. C13 reiterated,
"Super thankful po ako sa mga members din na bawat isa may input sa song, choreography, styling, and overall concept of 'The Beast'. Super nakakatuwa po kasi super supportive din ng management namin. Nandyan sila to help us—mga directors and coaches."

C13 on his appreciation of all the people behind 'The Beast'
The music video for The Beast is directed by Edrex Sanchez. The set for it is undeniably elegant, cool, and breathtaking. Certainly, the attention to detail is top-notch, setting the standard of what makes Philippine Pop. Some even pointed out how amazing everything is to think that it is just the first MV the group has released.
Vince, VXON's Visual, shared,
"We felt very happy and excited pagpunta pa lang namin sa set. Yung mga gagawin pa lang po kasi namin, vinivisualize na namin habang nandun po kami sa set. And hindi po namin in-expect na super ganda po ng kalalabasan dahil nung nandun po kasi kami ginagawa lang po namin yung best namin."

Vince on how amazing 'The Beast' M/V turned out
In addition, Sam detailed that watching the music video is like seeing how all of their hard work has paid off.
"The moment na pinanuod namin yung music video for the first time, for me, parang nag-flashback lahat ng training, moments na nag-iisip ng lyrics, ng melody, kung paano gaganda yung song. Sobrang overwhelming na nasa harap na namin yung vinivision namin. Worth it yung pagod."

Sam on his reaction to the music video
"Kung wala lahat ng tao na tumulong—from the make-up artist, stylists, and of course si Direk—di 'to mabubuo. Super hands-on niya [direk] kasi sa'min. Laking tuwa po namin nung nakita namin yung music video. Di namin na-imagine na magiging ganon."

C13 on how Director Edrex has helped them
Leader — C13
It is undeniable that VXON is composed of very talented individuals who have shown their charisma and musical prowess in the music video. Each individual brings something valuable to the table.
Christian Saraos, now going by his stage name C13, is best known for his stint in the Korean survival show, Under Nineteen. He was part of the 57 contestants but belonged to the performance team. This just shows how he has the most experience amongst his members, and also being the eldest, was named the leader of VXON.
"Before po kasi ako pumasok sa VXON, nagkaroon ako ng several groups. Nag-start ako nung bata pa lang ako. Lagi akong yung pinaka-bata sa group. Never ko in-expect na pagdating dito [VXON] ako na yung pinaka-matanda and ako yung magiging leader. Sobrang parang opposite ng in-expect ko."

C13 on him being VXON's leader
The leader then detailed how he applied his experience in Korea to his current team.
"So yun nga po, nag-train ako sa Korea. Yung mga natutunan ko dun, I brought here. Yung mga advice na binigay sa'kin, ina-apply ko—discipline, pag-help sa training."
The former Under Nineteen contestant continued on by detailing how he, as a leader, attends to the needs and concerns of his members.
"Super happy din po ako na, as a leader, yung members ko, pag may problem or concern, sinasabi nila sa'kin. Ang pinaka-gusto ko din po sa group namin is super open namin sa isa't-isa."
Lead Rapper and Lead Vocalist — Sam
Samuel Carfranca, known for his stage name Sam, is VXON's lead rapper and lead vocalist. He might be familiar to you since he already appeared in the ABS-CBN TV Series, Starla. He used that as a stepping stone towards his real dream, which is to perform.
"Yung Option A ko po, yung pinaka-gusto ko talaga gawin is to perform. Nung dumating yung opportnity for acting, syempre I treasured and nurtured it. Kaya nung napunta na ako dito sa performing, sobrang naging madali lang po kasi ito talaga yung pinaka-gusto kong gawin and super passionate ako about dito."

Sam on his transition between being an actor to a full-pledged P-Pop idol
Main Vocalist — Franz
Franz Robin Chua Palapo, known by his stage name, Franz is tasked to be VXON's main vocalist. Indeed, it is a very pressuring position. When asked about the vocals for The Beast, he answered,
"When we first heard the song, natuwa kami because it's within our range lang. And di kami nahirapan. Each member auditioned for the parts. Thankfully, naging maganda yung line distribution for each member. Every part, nag-jive yung vocals."

Franz on The Beast's line distribution
Visual — Vince
If you feast your eyes upon all the members, you may have a hard time telling who's the visual of the group. This is due to the fact that each and every one of them have their own charm and they can all easily pass the standards of beauty. However, there is only one.
Enzo Vince Dizon or Vince is VXON's official visual. It is undeniable that he has the face to back it up. Among all of the five beautiful boys, he reigned supreme in the face department. Nonetheless, he made it clear that having talent is much more valuable.
"I'm very flattered to be the visual but I think talent is more important. Being the visual is just a bonus for me. Also, I'm proud to say that every one of us is a visual naman."

Vince on being VXON's visual
Just to make light of the position, though, and to satisfy our curious minds, if he only has to pick one, who does he think can qualify to be the visual of VXON aside from him?
"Siguro, ano, nagbabasa din naman ako ng comments. Based on the comments din po, siguro si Franz."
Main Dancer — Patrick
Patrick Rocamora, known for his stage name Patrick, is impressively both the group's maknae and main dancer. If you look at it, that is a very big achievement for VXON's youngest member. When asked about this, Patrick shared,
"Bata pa lang po kasi ako, hilig ko na talaga sumayaw. Mga 6 years old pa lang. Sobrang passionate po talaga ako pagdating sa dance. Bago pa din po talaga ako pumunta sa CS [Cornerstone], nag-workshop na po ako, which is good kasi natanggap agad ako. Yun din naman kasi talaga yung interes ko."

Patrick on being both the maknae and main dancer
A bond of brothers
Forming a group can be really troublesome due to the different attitudes and personalities of the potential members. Also, putting very talented individuals together can cause a power imbalance.
With VXON, however, that didn't become an issue. When asked about their relationship with each other, C13 explained,
"Super nag-click kami nung nagkasama-sama kami. Nung una, worried kami. Like, paano ako makikisama dito, paano ko kakausapin 'tong tao na 'to. Pero nung nag-meet na talaga kami, magic na lang. Click agad. Parang magkakapatid na talaga kami."

C13 on VXON's strong bond with each other
Is VXON exploring other concepts
Looking at the amazing music video and overall production of VXON's debut song, The Beast, it can be said that it is leaning towards a more dark concept. Since fans usually want to see a variety of acts from their idols, is VXON open for a more boy-next-door image?
C13 shared,
"Since P-Pop yung genre namin, we're kind of exploring other concepts. When it comes to our music genres, expect other things. For now, nag-focus kami sa parang yin-yang, bad boy, pero at the same time, beautiful vibe. "
Franz, on the other hand, added,
"We're very open to other concepts as long as matutuwa po yung mga Vixies namin. Pag sabi ng vixies, why not."

Franz on trying other concepts for Vixies
Collaboration with other artists
Meanwhile, when it comes to collaborating with equally-talented artists, VXON didn't hold back in voicing out who they wanna share the stage with. Patrick mentioned Zephany, while C13 shared how he wanted to uplift the P-Pop scene by collaborating with other P-Pop groups.
Among all of these, however, there is one person who almost unanimously came out of their mouths. That is their labelmate, KZ Tandingan.
"She's very badass, for me, and I'm very inspired by her music," says Vince.
"Pagdating kasi sa performing, sobrang ina-idolize ko si KZ. Yung passion and heart niya when it comes to being onstage is amazing," Sam detailed, professing her admiration for the singer.
With that said, we can already en-VXON (get the pun?) a collab with KZ Tandingan. Maybe soon, since they are all in the same company.
Just for you, Vixies
So, now, Vixies, as if VXON hasn't thanked and hyped you up already, here are all the touching messages the members have for you, you beautiful fans.
"Maraming salamat, Vixies, sa walang sawang pag-suporta sa'min. Mahal na mahal namin kayo."

Patrick
"Kahit midnight na or madaling-araw, nakikita namin yung tweets niyo na pinapa-trend pa din yung song. We appreciate it, sobra. We're so thankful na kahit nagsa-start pa lang kami, sobrang nare-receive na namin yung unconditional love and support niyo. We love you back."

Franz
"To all the Vixies out there, thank you for giving us fuel to do more."

Sam
"We're very blessed to have you. It's really a blessing to have someone like you who appreciates what we do."

Vince
"We're very humbled to have you Vixies, kasi nakikita namin yung effort niyo kung paano niyo kami i-support. Gumagawa pa kayo ng fanarts, reaction videos, and TikTok videos. Yung ganong effort, super nakaka-melt na ng puso. So, maraming salamat, Vixies, I hope, until the end, magsama-sama tayo—Vixies and VXON. Kayo ang nagbibigay ng energy sa'min."

C13
More of VXON
VXON, despite just debuting at the start of the exciting year of 2022, already gave us everything by providing us with a very exhilarating debut single. Not only did it have an amazing sound but also gave us a memorable performance as a quintet.
I'm pretty sure that the Vixies out there are very excited about the comeback of this promising group. While we also wanted to know more, all VXON can say is be ready for more—maybe a surprise this 2022. They always have the Vixies in mind, so expect to be blown away by your own desires and requests.
Early on in the world of VXON, who is your bias among them? Sound off in the comments below.
Everything starts with a VXON.
Publisher | Richie de Quina & Gwynn Crisostomo
Editor-in-Chief | John Luke Chica
Senior Editor | Rapha Garcia
PR & Advertising Manager | Josh Austria
Digital Manager | Allen Esteban
Words by Rapha Garcia
VXON's Talent Management Cornerstone Entertainment Inc. President / Managing Director | Erickson Raymundo
Vice President | Jeffrey Vadillo
AVP for Music / CS Music Label Head | Caress Caballero
Handler | Cristine Calawod

Photographer | Rxandy Capinpin
Make Up Artist | Mac Igarta
Asst. Make Up Artists | Rhod Rubia Ashley Torralba
Hair Salon | the bloc by Junie Sierra and Co
Hairstylist | Rexter Delen
Styling Team | Myrrh Lao To, Edlene Cabral, Mack Bersalona, Josh Galang
THE BEAST — Now Available on Spotify, Apple Music, iTunes, Deezer, Amazon Music, YouTube Music, and other major digital stores. Exclusively released by CS Music.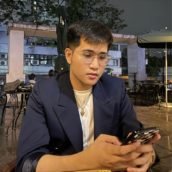 Raphael Garcia
Raphael is a person born between the generations of Millenial and Gen Z. He was produced by Cavite State University (Main Campus) with a bachelor's degree in Political Science. The lad has a fresh take on things, but can still stay true to his roots. He writes anything in Pop Culture as long as it suits his taste (if it doesn't, it's for work). He loves to wander around the cosmos and comes back with a story to publish.