Sam Pinto and Her Journey to Enigmatic Motherhood
Motherhood is one of the most beautiful and enigmatic experiences in the world. Neither gold nor silver or any diamond in the world could compare to the treasure of motherhood. And when it comes to pregnancy, we cannot find a more lovely expectant than Sam Pinto. Like a lone shimmering star in a night covered with a dark blanket, Sam bears a luminance that's incomparable.
Despite life putting her in throes of oblivion, her beautiful spirit triumphs ever so relentlessly. This is her experience, this is her legacy- and this is what she aims to pass on to Mia, her first-born child. Despite the challenges and fears about her first-time pregnancy, her ever-glowing charisma and aura tell us that this soon-to-be-momma is prepared! Radiating happiness and peaceful vibes, Sam Pinto will surely pass on her sunshine attitude to her baby, Mia Aya Semerad.
Sam Pinto and Her Journey to Enigmatic Motherhood
In pregnancy, we often see mothers looking tired and stressed from all the morning sickness. However, Sam experiences the exact opposite! Her beauty only grows more than ever as she rejoices about the life growing inside of her.
When asked about how is the experience of being pregnant during the pandemic, Sam takes on an optimistic view.
"Honestly, super perfect timing with the whole pregnancy. You can't really go out. I'm not missing out on anything, basically. Honestly, I feel like it's the perfect timing to be pregnant."
She also adds that pregnancy, in general, is such a scary and challenging encounter!
"There are so many things happening inside your body, inside and outside. It's just so fast. Especially during my first trimester because it wasn't good…it was like your body is adjusting so fast, and I was so emotional!"
It was also during her pregnancy that she discovered her newfound love for empanada. In all her hurdles and mood swings, she feels grateful for how supportive and understanding Anthony, her husband, has been. Initially, Sam shared that she and her husband planned to have kids after being married for two to three years. She considers Mia as a pleasant surprise and a blessing from God.
Despite Mia being an unexpected wonder, Sam Pinto is prepared to take on one of the newest and most crucial roles of her life yet- being a mom.
"I've been watching a lot of videos and may birthing class ako sa Monday, which is four hours online…I also had my newborn crash course as well!"
Growing up as the youngest, Sam has had no experience with taking care of babies. With trust in her heart, she knows that her maternal instincts will supply her with what she needs once Mia is born. For her, this is really a journey into unknown territory- but the excitement and joy far outweigh the anxiety!
"I have zero knowledge of babies as I didn't grow up with any babies…I was the youngest. And I really have no experience with babies. I don't know how to carry them, how to burp them."
Of course, as it is with all first-time experiences, we all feel apprehension at oblivion. But Sam has been taking a laid-back approach to pregnancy, one that we should emulate!
Sam Pinto empowers herself and every woman by recognizing the solid and beautiful capacity of women's bodies to be vessels of life.
"My body and mind will know what to do, especially when the baby's there na. I was made for that. I was made to create life, kaya na yan!"
According to Sam, her transition from being a full-time actor to being a full-time mom was a smooth one.
"Actually, I was also semi-tired. 11 years na ako nasa showbiz, okay na ako. Set na ako with what I've done and what I've experienced."
We couldn't agree more as we look at the empire that Sam has built, with her legendary TV and film performances. She has also made a name for herself with her modeling career, so we understand her decision to step back from the limelight!
Looking at Sam's vibrance, we know that she will be a great mom to Mia.
Like her mom, Ma. Theresa Pinto, Sam wishes to pass down the quality of being strong, generous, and kind to Mia.
"I'm looking forward to when everything is settled down. I look forward to being at home and appreciating what [we] created. [to Mia] I made you."
Truly, Mia is blessed with such wonderful parents. She's lucky to have such a sweet, loving, and chill mom like Sam!
"Mia, if you read this, hopefully by now, you're a strong, beautiful girl that would follow your heart and your dreams. Daddy and I would support you in everything you do, and yeah, we love you very much! Hindi ka pa nga pinanganganak, love ka na namin eh!"
Sam is but a petal plucked from the most intricate rose. Her name, a verse from an exquisite poem. And the future looks ever-bright for her and her family! Let's pray for her safe delivery!
The world, with all its grace and mystery, is ready to greet you, Mia Aya Semerad! 
Publisher | Richie de Quina & Gwynn Crisostomo
Editor-in-Chief | Angela Baltan
PR & Advertising Manager |  Josh Austria
Digital Manager | Allen Esteban
Words by  Llana Cabajar
Photographer | Gio Marasigan
Videographer | Sean Julius Pascual
Makeup | Muriel Vega Perez
Assisted by | Jazthine Manaloto and Erika Glendro
Hair | Arjay Zurita
Styling Team |Yvonne Camay and Archie Bose
Designers
Taupe Maternity Tulle Gown |  Sewn With Love by Yvonne Camay
Black Tight Dress | Sewn With Love by Yvonne Camay
Black-burgundy pinstripe classic suit by | JAIMARQUE Bridal Fashion
Denim BLue slim-fit suit by | JAIMARQUE Bridal Fashion
Special Thanks to Vania Padilla-Edralin, Tea Ni Juan, Accutrust Diagnostic Laboratory, and Hallyu Secret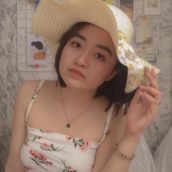 Llana Cabajar
An aspiring adventurist who aims to travel the world someday. Weird and poetic, a great friend for problematic rants and deep talks about life in general. Hit me up on my socials!