The OPM star inspires her daughter who became a singer-songwriter to reach her full potential in the world of music and personal life. Jessa's deep powerful voice gave life and justice to songs Ibigay Mo Na, Paano Kaya, and Bakit Pa among many others. Now, it's Jayda's turn to bloom as a young singer-songwriter and her mother couldn't be more supportive.
Jayda describes her relationship with her mom, Jessa:
"It's like growing up with a best friend really. In all aspects. I think as I'm getting older, my bond with her is definitely becoming stronger since we can relate to each other more."
Jessa and Jayda: Duet
The mother describes herself as a straightforward but chill parent, always coming from a place of love. She will always support her daughter's endeavors as a musician even at a young age. And, of course, her daughter listens to her advice and corrections. She even recalls a fond memory of her mother teaching her to do the "Christina Aguilera growl" singing technique. She loved bringing her mom to special school events and proudly showing her off.
Versus society's unrealistic beauty standards today:
And even with her busy schedule, Jessa still manages to be present for Jayda as much as she can with good time management. With wisdom from her life experiences, the celebrity momma shares a lot of great sensible advice for her daughter – something that the younger one can still apply. She wants her daughter to have a positive body image, especially with society's unrealistic beauty standards today. 
"I explain to her that you just have to be realistic, own, and accept what you have. Recognize that beauty comes in different shapes and sizes."
Although Jessa hopes that Jayda would wait for God's time since His timing has always been perfect. She also said that Jayda can make her own mark in the music industry someday. As long as she remains authentic, original, and distinct. Jessa added:
"Respect the craft, everything else that comes with it, and the people who have come before you specifically."
Identity on her own craft
The young musician admits that part of being the daughter of Jessa Zaragoza comes with pressure. But the good thing is, she respects the achievement of her mom. And, of course, their differences as well. She doesn't let that fact affect her self-esteem by being confident in her own craft and identity.
"I think she and I are on different paths, which isn't a bad thing. We both have our own individual characteristics, and so having that in mind takes the pressure off of me a little bit." 
Jayda Avanzado also admires her mom because of Jessa's tenacity throughout her struggles in life most.
"I know how she has overcome so many obstacles, yet she still has managed to come out on top. I'm happy for her, and the fact that I've gotten to witness that!"
Facing the realities of the music industry
Meanwhile, Jessa believes that mothers and daughters should have that special bond.
"Iba kase ang role ng mother. Iba rin sa role ng tatay, sa buhay ng anak. The father is supposed to be a leader, but the mom is there to nurture. And nurturing is all the easier when you have a connection with your daughter. Parents are to be hand and hand, ideally."
To do this, the loving mother shares that she explains to Jayda where she comes from. She doesn't sugarcoat things and always tells her daughter the reality of things. Because of this trait, Jayda can handle criticisms from other people excellently. She knows how to filter out the negative from the constructive ones. Just like her straightforward mom, Jayda shows her gratitude towards her by communicating and saying thank you. At the same time, she does a few things for her by being independent. She makes an effort to lessen her mother's workload as "acts of service" because it's Jessa's love language.
The more Jessa and Jayda talk about each other, the more we understand that this connection is built through time and effort. As Mother's day comes, maybe we should do just more than greet our mom on social media. Mothers deserve more than a day off or gifts, they should know how grateful we are. That's all that really matters, right?
Publisher |  Richie de Quina & Gwynn Crisostomo
Editor-in-Chief |  Angela Baltan
PR & Advertising Manager |  Josh Austria
Digital Manager |  Allen Esteban
Produced|  Stephen Capuchino
Art Direction|  Jobo Nacpil
Photographer |  Wilmark Jolindon
Videographer|  Ian Francisco
Words by |  Quennie Lastra
Makeup |  Janell Capuchino
Hair |  Charlie Manapat
Styling |  Janno Styles
Styling Associates |  Nash August
Wardrobe Credits
on Jayda | Lace coordinates by Job Dacon
on Jessa |  Carl Acusa
Special Thanks to Ano Sayo Kitchen and The Vintage Hub Manila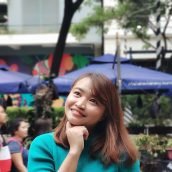 Queenie Lastra
Queenie Lasta got her bachelor's degree in Communications Research from UP Diliman. In her free time, she likes to read thriller novels, psychology books, and mangas. She believes in the importance of grit, hard work, and passion to become a great writer in the future.