There's no doubt that social media is a powerful tool that one can utilize to promote a person, business, or even an idea. With a strong determination to succeed, Sachzna Laparan was able to achieve fame through her vine videos. But the amazing thing is, she did not stop there. Let's know how this young but empowered woman has undergone challenges to prove herself as a girl boss!
Being a strong woman with self-awareness
There are many ways to describe Sachzna, but let's make it short. She is a woman with high ambitions, goal-oriented and fearless. She's not afraid to make mistakes because of trying. Growing up, she dreamt of being a celebrity with her pictures on a huge billboard. At the young age of 13, she decided to work in order to support her family.
Until now, Sachzna prioritizes her family above all things. She wants to make sure that they are living a comfortable life since they experienced a lot of hardships in the past. This includes surviving in their small house in Cavite while trying to make ends meet. Those memories are her motivation to strive harder and work for her dreams.
Aside from perseverance, Sachzna also highly values self-awareness among other traits. She said that a woman should know herself, how she carries herself, and knows how to value herself. She was raised by a strong woman, no other than her mom, so she became her role model ever since as a child.
She recalled, "My mom is a single mom growing up and nakita ko kung guano nya tinaguyod ung kabuhayan naman. Siya talaga ang tunay na self-made, strong independent woman. Because of her, I learned how to stand and fight for what I believed is right. That is something I want to influence other people, especially teenagers. I want them to be strong at an early age kase ayan ang magiging foundation nila in the future."
Handling negative criticisms seems to be the expertise of this strong young woman. She got the title as 'social media darling', maybe because she did not retort to any of her bashers. How does she do that? Sachzna tells us that she did not let negative comments affect her. For her, it's just a waste of her time if you let negative people ruin your day. In effect, you won't be productive at all and it can affect the mood of her loved ones.
The top priority is to create effective beauty products
But more than being an influencer, this charming and industrious woman considers her own business as her milestone. When a pandemic happened, she told herself that she should not wait for opportunities to come. After that, she met her business partner and planned everything to establish 'S by Miss Flawless'.
Being a CEO is her long-term dream.
"Eto yung business na alam kong makakatulong ka. Somehow, pwede ko i-market yung mga product na ginagamit ko. At the same time, pwede tulungan ko kung mga taong naniniwala saken in return sa  support nila saken from the beginning."
Moreover, Sachzna expressed her gratitude to her Frontrow family because of the big break and the training she got there. During her work there, she learned a lot about the networking industry and strategies to meet new people. It enables her to explore and it also became her stepping stone to other endorsements. Until now, she said that Frontrow is still supporting her in her business venture.
Being a CEO of a start-up business is not an easy feat. Sachzna experienced a lot of challenges to have her own skincare brand. She was hands-on in every aspect of her business, from sourcing out human resources and finding the right suppliers. At the same time, she did the hard work in making sure that the manufacturer will execute her plans in terms of formulation and packaging.
Sachzna explained, "Yung packaging and of course yung formulation ng skincare ko, yon talaga yung pinaka importante. Kasi naniniwala ako na aside from good marketing and sales strategy, ang importante talaga is ung effectiveness ng brand. Ayan talaga yung matatandaan ng mga tatangkilik ng product. I want S by Miss Flawless to be recognized not because I'm the CEO of the brand but of course because my brand is effective and it also helps other people to bring out the best in them."
Finally, Sachzna shared a message to all Filipino future businessmen or businesswomen:
 "I'm excited to see a lot of young CEOs in the future. I really want to prove that being a woman does not lessen your capabilities. I want women of this generation to prove that our community should give women a fair opportunity."
An inspiring woman indeed. Great job Sachzna!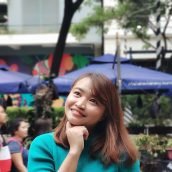 Queenie Lastra
Queenie Lasta got her bachelor's degree in Communications Research from UP Diliman. In her free time, she likes to read thriller novels, psychology books, and mangas. She believes in the importance of grit, hard work, and passion to become a great writer in the future.