Shy, but adventurous. These are the words Kimpoy Feliciano describes himself as a young boy.
He simply goes with the flow back then but admits to having a competitive side.
"When I was a kid sobrang mahiyain ako. I just go with the flow but I've always seen myself as the competitive one. Kahit sa mga larong kalye, I always enjoy winning. I also like joining co-curricular activities in school – I like trying everything. I'm very adventurous."
A different path
Despite being a huge social media influencer today, Kimpoy never aspired to be well-known.
"I didn't really aspire to become famous or to be an artista. Though I'm very competitive, I know I'm not gifted. I knew I'm not very good looking or the most talented. That's why when I want something, I always work hard to get them."
In fact, his childhood dream was to become a man of the cloth, something far away from what he is doing now.
"A priest – that's what I wanted to be when I was young. I grew up with my grandparents who are both very religious. I'd attend mass with them every Sunday and watch them serve the Church. They were a big factor why I wanted to enter the seminary when I was in high school but I eventually realized it wasn't for me when we moved to New Zealand."
'Picking up' a new passion
2012 came around and netizens discovered Kimpoy through his first video called "Pinoy Banats."
The then-debuting social media star made girls all giddy as he recited random pick-up lines to attract their attention.
He did it all for fun but got surprised after it received one million views, a huge number for YouTubers at that time.
Kimpoy's pick-up lines garnered tons of online attention. This made him realize that he picked up something he can passionately do.
"When my first video went viral, I didn't really expect it since I'm not a celebrity. I started getting followers and, to be honest, I didn't know what to do with them at that time. So I kept on posting more just to keep them entertained which they enjoyed."
Skyrocketing to online stardom
After posting more videos on YouTube, Kimpoy grew a huge following, making him one of the most popular online content creators on the video-sharing website.
"I didn't expect to gain so many followers over the years. When my first video on YouTube went viral, I thought it would only last for a few months. But my following kept on growing and a record label approached me and offered me a recording contract."
The opportunity would put him on the map for showbiz stardom, yet for him, it never felt like a career. He simply enjoyed what he did.
"In my early years in the industry, I was just enjoying it. I didn't really care about my talent fee, contracts, etc. I was just enjoying myself and the whole experience. When I graduated college that was when I realized I can pursue content creation as my career. Blessed enough to be able to turn a hobby into work."
Moreover, content creation for Kimpoy is more than the views and earnings. It was about keeping memories.
"Content creation for me is way more than a career. I don't do it for the views, for the ads, or for anyone, I do it because I really love shooting videos and creating short stories about my trip and experiences. I like keeping memories. It serves as my video diary that I can look back in the years to come."
Furthermore, he continued producing content as it turned out to be something he loved doing, way before it reaped its fruit with rewards.
"I pursued being an online creator because I was already enjoying it before the perks came in. I was just lucky that it became huge in the marketing industry. I'll keep on doing it even there's no money involved."
Highs and lows
For Kimpoy, being an online content creator has its highs and lows. He cites his viewers as the best part of the job.
"The best part would be the people. The followers and viewers we inspire in the simple things that we do. It feels amazing when we get to make people smile just by being ourselves."
However, he would also face some online backlash for his content, yet chooses to see the positives than the negatives.
"People can easily judge you based on the things they see or read online about you. There are days that you feel pressured about being a good example to your viewers. But then there are still more good than bad."
Asked if this struggle made him want to quit, Kimpoy said no, reiterating his feeling of bliss in what he does.
"I really enjoy what I do especially now that I get to earn, save and help my family financially. I value it more and I will continuously work hard to be better."
A platform to inspire
With social media playing a huge role in today's age, Kimpoy presses its importance in inspiring many people to do good.
"Social media is here for us to connect. We can use it to inspire, be inspired, entertain, be entertained as long as we use it the right way. It can also open endless opportunities to others."
When asked if he has any advice for aspiring content creators out there, he said,
"If you want it, do it now. Noone can do it for you. And if you do, you'll thank yourself later. You'll be keeping memories for a lifetime."
Lastly, when asked what is next for Kimpoy, he admits feeling uncertain but reveals that is what makes it exciting.
"What's next for me? I don't know. And for me, that's what makes it more exciting. There's no expectations, no plans, no disappointments. Just live one day at a time and make sure you make the most out of it."
And we cannot wait for that. Good luck with your future plans, Kimpoy!
Publisher | Richie de Quina & Gwynn Crisostomo
Editor-in-Chief | John Luke Chica
Junior Editor | Kobe Adam Joshua Laurena
PR & Advertising Manager | Josh Austria
Digital Manager | Allen Esteban
Words by Kobe Adam Joshua Laurena
Photographer | Russel Roed Fadera Banawa
Makeup | Raffy Prieto Francisco
Hair | Robert Nocheseda
Stylist | Chino Brownlee Aguilar
Special Thanks to FLEEK – A Lifestyle Technology Company, Tea Ni Juan and Jacko's Burger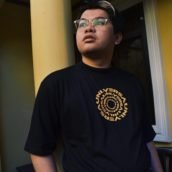 Kobe Adam Joshua Laurena
Kobe Adam Joshua Laurena is a writer who loves to tell stories from the perspectives of different people and everyday life. Apart from the pen, he loves to pick up the lipstick to transform into his frustrated drag persona: Anita Good Lovin'. He aspires to combine his love for writing and drag by creating a novel, short story, or screenplay about local drag queens in the future. He also has an obsession with sitcoms, women's pro-wrestling, and Funko Pops.