Alexa Ilacad says seeing My Chemical Romance is a wish come true
Photo | Alexa Ilacad (Instagram)
Alexa Ilacad recently expressed joy about finally witnessing My Chemical Romance in a concert, a moment she has always dreamed of.
My Chemical Romance is an American rock band formed in New Jersey in 2001. They gained a large following with their emo and punk rock-infused music and theatrical live performances.
Moreover, some of the group's smash hits include Welcome to the Black Parade, Teenagers, and Helena. While the band went on hiatus in 2013, they announced their reunion in 2019, much to fanciers' excitement worldwide.
Alexa Ilacad says seeing My Chemical Romance is a wish come true
Among the many global fans of My Chemical Romance is Ilacad, who recently fulfilled her dream of watching them. During her trip to Japan with onscreen partner KD Estrada, the singer-actress had the chance to attend the ensemble's concert.
On her social media pages, Ilacad described the experience as one of her most memorable milestones. "I never thought this day would come. One of my biggest dreams just came true – I FINALLY SAW MY CHEMICAL ROMANCE LIVE. Best day of my life!" she wrote in a post.
Furthermore, Ilacad thanked the band for their music, which held a special place in her heart as a child. "Thank you, [My Chemical Romance], for being my safe haven growing up. There is a tender space in my heart always occupied by you and your music," she noted.
Ending her message, Ilacad cheered her six-year-old self for finally turning their "biggest wish" into a reality. Attached to her post is a short video showing her candidly fangirling for her idols.
Watch Alexa Ilacad's Japan vlog with KD Estrada below: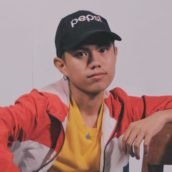 Renzneil Robles
Renzo is an introvert who prefers to do things at his own pace. Unlike most writers, he reads lazily. Watching Korean dramas at night is his constant source of comfort. Although oftentimes commended for being outspoken, he speaks better through writing than with his words.