1stOne's SHOUT OUT Rises Atop Billboard Hot Trending Songs Chart
P-Pop legionnaire 1stOne is marching on the trail of its newfound success after penetrating the reputable Billboard chart on November 29.
The sextet catapulted their pop-rock single "SHOUT OUT," debuting at the 13th spot on the Billboard Hot Trending Song (HTS). In only a few hours, they remarkably climbed up to second place, coming next to the Cuban-American singer Camila Cabello and her entry, "Ambulancia."
Before the day ended last night, SHOUT OUT bested all other songs worldwide as it snatched the coveted number 1 spot on the 24-hour real-time ranking. This triumph makes 1stOne the second Filipino act to enter Billboard's HTS chart, moreover, sit on top of it.
Additionally, 1stOne now joins the P-Pop supergroup SB19 on the milestone, the first artist to invade the international music tabulation phenomenally. Similarly, their music piece "Bazinga" beat the odds by overtaking the top spot from global Korean stars BTS in 2021.
Released in January, SHOUT OUT is 1stOne's track tributing the Filipino soldiers who fought in the 1951 Korean War. The group attempts to use music as an instrument to remind and instill value among Filipinos of our past.
Following 1stOne's Billboard breakthrough, For One (their fandom) celebrated on Twitter along with thousands of other fans of P-Pop. As of writing, their echoes of celebration occupy the trending list on the platform with almost 10k tweets.
1stOne's achievement, along with other bannermen, is a slap of reality against the blatant disbelief in P-Pop. The practice is often seen as a mere copycat of K-Pop, although the country's history would tell otherwise.
Once again, Filipino music is proven to thrive in the world amid the complicated dynamics. Thank you for making us proud, and congratulations, 1stOne!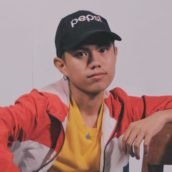 Renzneil Robles
Renzo is an introvert who prefers to do things at his own pace. Unlike most writers, he reads lazily. Watching Korean dramas at night is his constant source of comfort. Although oftentimes commended for being outspoken, he speaks better through writing than with his words.