SHOUT OUT by 1st.One: A scream of the group's ambitions
It has been more than a month since the P-pop group 1st.One made their comeback through the song, SHOUT OUT. This fiery track released sometime after the hexad's hiatus could not be more appropriate to signal their mighty return.
Consist of the members ACE, Max, Alpha, J, Joker, and Jason, 1st.One debuted in July 2020 with priorly obtained recognitions. Aside from winning awards, they were the first Filipino act to perform for the high-status Seoul Music Awards 2020.
Thanks to the combined efforts of OPM artists and the rebirth of P-pop through the stellar quintet SB19— the idol industry is undeniably flourishing in the local landscape. In that new music scene, the rising 1st.One persists to sculpt its unique mark with talent and aspiration.
And through the song SHOUT OUT, they set an example. That being the case, here are the reasons why it deserves so much appreciation:
A beyond quality MV
1st.One released the music video for SHOUT OUT on January 15, 2022. Amazingly, the 6 minutes and 34 seconds video is a rundown of a craft far from mediocrity. In sum, it incorporates all the things you probably want to see in an MV— from its excellent cinematography, marvelous special effects, and a superb overall visual aesthetic.
Jam-worthy music
The high-sounding SHOUT OUT is just so catchy! Only fitting to the usual genre of idols, the pop-rock anthem is infused with melodious beats. Compared to their previous songs that established their brand so far, it is unique and distinct. This brave exploration of variety yet earned the group another charisma.
Elaborate choreography
Of course, what sets idols apart from usual singers or dancers is that they can do both! And no doubt, 1st.One gave it their all in. Pairing the hyper tune of SHOUT OUT, are the intricate movements as exhibited in their MV. While the members may have made it appear effortless, dancing to such fast progress is always challenging! Thus, they are truly admirable.
Original composition
Lyrics should as well be taken into consideration when reviewing songs. Therefore, it is time to look at the letters on top of the sound and dance we already appreciated. Although almost entirely written in Filipino, the track has few English lines on it too. Nevertheless, it remains easy to comprehend with the rap verses to watch out for! For our information, the leader Ace is behind the composition himself.
A supposed substance
And finally, the intended message is the element that could be the finishing touch of any song. Inspiring the general visual aura of the track is a dedication to important history. As they described, the piece is a tribute to the 7,500 Filipino soldiers who fought for the 1951 Korean War. With music as their instrument, the P-pop group aims to inspire people and remind everyone of our significant past.
SHOUT OUT is only among the initial step of 1st.One closer to building a legacy. As time goes by, for sure, it will be worth seeing what the members will offer us next. Let us support them!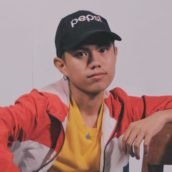 Renzneil Robles
Renzo is an introvert who prefers to do things at his own pace. Unlike most writers, he reads lazily. Watching Korean dramas at night is his constant source of comfort. Although oftentimes commended for being outspoken, he speaks better through writing than with his words.