Leading the march for Filipino pride, SB19 is once again bearing the flag for this nation's land—and this time, in a global spotlight. During the 2021 ROUND Festival hosted by South Korea, the dyad represented the Philippines among other countries honoring Southeast Asia.
Comparable to a line from their iconic song, there is indeed nowhere to go for this group but up! Hence, proving only as if needed, that they are the worthwhile titular supreme kings of P-pop.
The ROUND 2021 Festival, what it is?
ROUND 2021: ASEAN-Korea Music Festival (AKMF) is a virtual festival aimed at bridging cultures between Korea and Southeast Asian countries. More than a music exchange, it has become a rather meaningful event to also overcome the COVID-19 crisis.
In its inauguration, ROUND Festival was awarded the 2021 Digital Content Award by the Asia-Pacific Broadcasting Union. Now continuing its success, it's on its second year of inviting talents to strengthen the mutual solidarity between participating nations.
Looking back, folk-rock band Ben&Ben graced with their presence in 2020 to correspond for the country along with other ASEAN pride. And this year, after careful selection from nominated Filipino artists, SB19 is representing the Philippines.
Recently, they are named the Youth and Sentro Rizal Ambassador by the National Commission for Culture and the Arts (NCCA).
SB19: the proud bannermen
The AKMF is broadcasting live from its main stage in Seoul as hosted by KBS, one of South Korea's leading networks. The 6-hour long music festival featured local Korean talents and performances from 10 ASEAN countries. Namely, those are Brunei, Cambodia, Indonesia, Laos, Malaysia, Myanmar, Philippines, Singapore, Thailand, and Vietnam.
For their stage entrance, SB19 went with a powerful execution of their single 'What?' as if raising the Filipino flag. The combination of its playful dynamics categorized by heavy motion did not hinder them from giving their all-out presence.
Shifting from this elevated spirit, they gifted the audience with a heartfelt serenade of their debut song 'Tilaluha' followed by 'MAPA.' Nevertheless, the group showcased stable vocals, with intact harmonization and no miss on belting high notes.
Returning to hyperactive sound, SB19 bounced back with 'Bazinga,' Billboard's current number 1 Hot Trending Song for four weeks now. And finally, they topped off their appearance by carrying through their remarkable song 'Go Up' to signal a meaningful exit.
SB19 swaying the PH Trends, again
Following the broadcast date on January 09, the #SB19atRoundFestival made it to the Philippine Trends with almost half a million tweets. Moreover, titles of their performed songs respectively took spots as among the most talked about on the Twitter platform last night.
While A'TIN is the strong fandom behind such phenomena, the event led some non-admirers to take notice of SB19. After all, it's not an everyday occurrence that a Filipino act that started from scratch is the subject of worldwide admiration.
SB19 paved the way for P-Pop— and a lot is to learn from this narrative. Their breaking through the music scene is a result of persevering in a new practice not many would easily appreciate.
Yet, this is only the beginning; bigger milestones are still to come.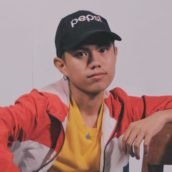 Renzneil Robles
Renzo is an introvert who prefers to do things at his own pace. Unlike most writers, he reads lazily. Watching Korean dramas at night is his constant source of comfort. Although oftentimes commended for being outspoken, he speaks better through writing than with his words.