The first week of our new year has already gone and I'm pretty sure each and every one of us is already tired. Life is indeed challenging and we continue to strive for greatness. There is no stopping us and we are not sorry about it.
But I know two things that we don't get tired of—these are great stories and fabulous concepts. That's what we're going to be talking about in this article. We'll be looking at Village Pipol Magazine's VP/Spotlight issues for the year 2021.
We have spent our time with the most talented and charismatic artists in the past year and we're very grateful for that.
You better buckle up for this will be a wild ride with some of the most inspiring people we have met—full of fun, beauty, and loads of talent.
January
"Beauty is subjective, it differs from one person to another. Beauty for me is intangible. It's strength and courage. Strength to rise above challenges and courage to face the world."

Maria Isabela Galeria on her definition of beauty
February
"I think it is my authenticity, what you see is what you get, di takot magmukhang pangit or jologs, puno ng mga pangarap, may takot at pagmamahal kay God at passionate sa lahat ng ginagawa."

Kristof Garcia on what sets him apart from other actors
March
Yukii Takahashi does not need another man – another Hercules to fight the rising odds. She is her own hero – strong and fast and fresh from a fight. Definitely a powerful addition to our VP/Spotlight stars.
April
"Women throughout history have fought so hard and even have sacrificed their lives so the women of today can live the lives that we do. Not only that we celebrate it, but also we commemorate it, and that we continue to fight and raise our voices as women. In a perfect world, we will be equal, no gender, no race. That is why we should support and celebrate women because of what they have achieved, especially for our rights."
Bella Ysmael on women's rights and feminism
May
Standing there in the salty air, sun-kissed sand glistened his hair. With the warmth on the bottom of his bare feet, he sweeps the salt and sand right off where he sits.
Marc David proves that he has a beauty so rare that remains beyond compare. With a smile gracing his face, no other scene looked so calm in such a space.
June
"…Gusto kong maintindihan ng masa na ang pagiging LGBTQ+ ay walang pagkakaiba sa lahat. Gusto kong ibaba ang diskurso ng gender at sexualidad sa languange na maiintindihan ng lahat…."

Sassa Gurl on fighting for the place of the LGBTQIA+ community in the society
July
"Social media is accessible to almost everyone. It encourages contact, communication, and awareness. There are now spaces and judgment-free zones where everyone can learn about LGBTQ+ advocacies. I really think it's a step forward."
August
Aabutin, kukunin, at susungkitin. Si Lala Vinzon ay isang bituin na kayang akyatin at arukin anumang bulubundukin.
September
"Wherever you go, whoever you've become, high or low, it's amazing how kindness can have so much positive impact on people."

Kim on the lessons he has learned from other celebrities
October
"Naisip ko [na] bakit iilan lang 'yong mga 'di kagandahan na artista? Nasaan ang representation ng different kinds ng beauty? Kaya sabi ko noon, someday kung lalabas man ako sa TV, I'll show them na hindi lang sa may mga itsura ang mainstream!"

Pipay on the representation of different kinds of beauty
November
Misters of Filipinas 2021 sizzle in this VP/Spotlight, sharing their journey towards the coveted crown.
December
"So if ikaw, kung nababasa mo man to, explore also on your artistic side or on your talent, malay mo yang mga katangian na yan ang makakapag paangat at magpapasaya sayo. Explore mo lang ses ang buhay, till malaman mo kung saan ka talaga nababagay. No rush!"

Christian Antolin on reaching dreams
With all of these important issues, we have certainly created a beautiful year panning the VP/Spotlight to those who deserve the platform. Let's all look forward to more inspiring illuminations this 2022!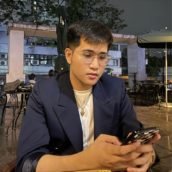 Rapha Garcia
Rapha is a person born between the generations of Millenial and Gen Z. He was produced by Cavite State University (Main Campus) with a bachelor's degree in Political Science. The lad has a fresh take on things, but can still stay true to his roots. He writes anything in Pop Culture as long as it suits his taste (if it doesn't, it's for work). He loves to wander around the cosmos and comes back with a story to publish.