Rappler chief executive officer Maria Ressa is the 2021 laureate of the UNESCO/Guillermo Cano World Press Freedom Prize.
What is the relevance of the UNESCO/Guillermo Cano World Press Freedom Prize?
Also, Named after Colombian journalist Guillermo Cano Isaza. He was slain in front of the headquarters of his El Espectador newspaper in Bogotá, Colombia. Funded this cause: Colombia's Guillermo Cano C Isaza Foundation. Finland's Helsingin Sanomat Foundation. And, also Namibia Media Trust.
Photo from UNESCO
Chair of the Prize's international jury Marilu Mastrogiovanni stated:
"Maria Ressa's unerring fight for freedom of expression is an example for many journalists around the world. Her case is emblematic of global trends that represent a real threat to press freedom, and therefore to democracy."
3 decades of bravery and commitment as a journalist
UNESCO also acknowledges Ressa's more than 30 years of experience as a journalist and media executive. Of course, this includes her work as CNN's lead investigative reporter for Asia. And, also as news chief of Philippine broadcast giant ABS-CBN. The prestigious organization also noted that Maria Ressa "has been the target of online attacks and judicial processes." This is mainly due to her investigative projects and her CEO title in Rappler.
Authorities have arrested this brave woman for alleged crimes related to the exercise of her profession. Additionally, she became subject to online abuse, threats, and harassment. At one point, she also had an average of over 90 hateful messages an hour on Facebook. 
If you feel interested to watch the ceremony, you can view the streaming on this YouTube channel. It becomes part of the 4-day World Press Freedom Conference. This, of course, focuses on "information as a public good" being held in Windhoek, Namibia.
UNESCO reminds governments that May 3 acts as a reminder of the need to respect their commitment to press freedom.  Also, it's a day of reflection among media professionals about issues of press freedom and professional ethics. To sum it up, World Press Freedom Day became a day of support for media. They also remain targets for the restraint, or abolition, of press freedom. It also became a day of remembrance for those journalists who lost their lives in the pursuit of a story.
Congratulations to Maria Ressa and Rappler!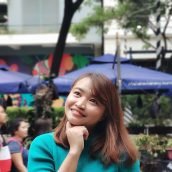 Queenie Lastra
Queenie Lasta got her bachelor's degree in Communications Research from UP Diliman. In her free time, she likes to read thriller novels, psychology books, and mangas. She believes in the importance of grit, hard work, and passion to become a great writer in the future.