'PAGTATAG!' EP by SB19 gets an earth-shattering preview drop
Photo | SB19
SB19 shakes the P-Pop ground to the core as they herald the arrival of the longed-for PAGTATAG! extended play (EP).
The five-piece ensemble comprising Pablo, Josh, Stell, Ken, and Justin finally signaled the era of their approaching comeback. The group's latest move comes nearly two years after the launch of their debut mini-album Pagsibol. It is also their most recent music stride, several months since their last single, Nyebe.
SB19 drops epic preview for 'PAGTATAG!'
On Saturday, SB19 unveiled an epic trailer of PAGTATAG! EP as a flare to the much-anticipated return. The band further intensified the preview by changing the social media icons of their official accounts in line with their comeback concept.
Additionally, the dystopic-looking trailer provided a sneak peek of SB19's upcoming offering. Fans, in exchange, expressed excitement to embark on a culture of unraveling the storyline as they did in previous releases. Of course, the new appearances of the members also drew admiration from their supporters.
Looking back, it was in 2022 when SB19 first spoiled the PAGTATAG! EP amid the promotion of their third-anniversary concert. During an interview with the media, the leader Pablo revealed it as a sequel to their chart-topping debut EP.
While Pagsibol tackled growth or germination, Pagtatag is expected to fixate on founding or establishing as the subsequent phase. Meanwhile, it is high-likely that all these are mere glimpses of a much grander scheme SB19 has in store.
As of writing, multiple taglines related to SB19's PAGTATAG! EP has trended on Twitter with over 300,000 accumulated tweets.
Mark your calendars, A'TIN! The PAGTATAG! EP by SB19 will be available on June 9, and a single will be rolled out on May 19.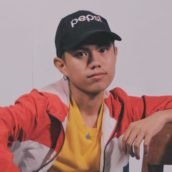 Renzneil Robles
Renzo is an introvert who prefers to do things at his own pace. Unlike most writers, he reads lazily. Watching Korean dramas at night is his constant source of comfort. Although oftentimes commended for being outspoken, he speaks better through writing than with his words.