SB19 drops new sentimental ballad 'Nyebe'
Photo from SB19 Official (Twitter)
Phenomenal P-Pop group SB19 hankers after warmth in their newest sentimental single, "Nyebe," dropped December 12, 12:12 am.
SB19 first teased the release on December 9 by changing the icons of their official social media accounts. The update immediately fueled theories from fans, who, at some point, assumed the quintet was hinting at their new era.
However, the group posted more black-and-white video teasers containing a melancholic script. It's not long enough after clues revealed that SB19 is not embarking on a new album but the release of the much-anticipated Nyebe.
Nyebe is a localized term of the Spanish word "nieve," meaning snow. The track was originally one of Pablo's unreleased compositions before the group performed it during the Our Zone 2021 concert. Following the event, they announced the adaptation of Nyebe into the group's discography.
Meanwhile, in the official lyric visualizer uploaded on YouTube, SB19 took us on a journey to understand the song. Nyebe, according to its description, is a ballad encapsulating warmth, longing, and sadness in rhythm. SB19 hopes the piece accompanies those drowning in misery and hopelessness.
To date, SB19's Nyebe lyric visualizer has gathered over 104k views, 29k likes, and almost 5k comments. Upon launch, it topped the local iTunes chart and ranked in other countries like Singapore, Saudi Arabia, and New Zealand.
Nyebe was written and produced by Pablo with singer-songwriter Thyro Alfaro. Its visualizer is a collaborative effort from the Where You At Tour team, with Pablo as the creative director.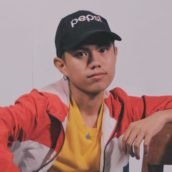 Renzneil Robles
Renzo is an introvert who prefers to do things at his own pace. Unlike most writers, he reads lazily. Watching Korean dramas at night is his constant source of comfort. Although oftentimes commended for being outspoken, he speaks better through writing than with his words.