Nikki Gil gives birth to second baby
Nikki Gil announced how she has given birth to her second child with husband BJ Albert.
The singer-actress announced the blissful news on Instagram last Sunday, October 10.
She said,
"Our little miss Madeline Elle arrived a few days ago, and we're completely smitten! Thank you Lord for our sweet Maddie."
Baby Maddie was welcomed into this world at the St. Luke's Medical Center.
Gil's celebrity colleagues, including Anne Curtis, Enchong Dee, and Kaye Abad, all gave her lovely congratulatory messages.
Gil announced her second pregnancy last April, posting a photo of herself showing off her baby bump.
By August, she made the revelation that she was expecting a baby girl.
She tied the knot with BJ in a Christian wedding back in 2015. She gave birth to her first child, Finn, last November 2017.
It has been six years since Nikki retired from show business.
Her recent screen credits include the 2014 ABS-CBN series Hawak-Kamay and the 2014 film My Big Bossing's Adventures.
Congratulations, Nikki! Welcome to this world, baby Maddie!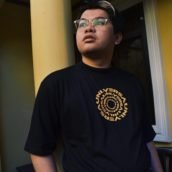 Kobe Adam Joshua Laurena
Kobe Adam Joshua Laurena is a writer who loves to tell stories from the perspectives of different people and everyday life. Apart from the pen, he loves to pick up the lipstick to transform into his frustrated drag persona: Anita Good Lovin'. He aspires to combine his love for writing and drag by creating a novel, short story, or screenplay about local drag queens in the future. He also has an obsession with sitcoms, women's pro-wrestling, and Funko Pops.